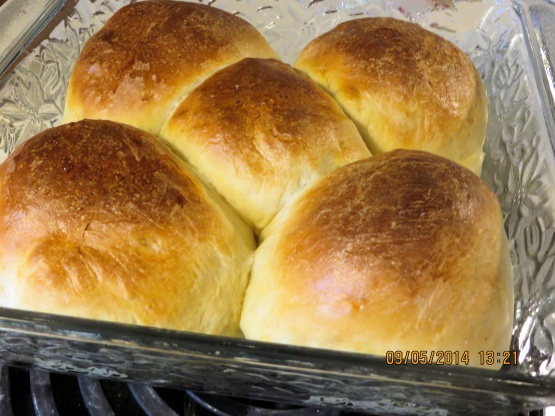 2 cups milk
3 Tablespoons butter
1 Tablespoon active dry yeast
½ cup warm water
½ cup sugar, divided
½ cup honey
7½ cups flour (up to ½ cup more or less), divided
2 eggs
2 tsp salt
Butter
Put milk in a small saucepan over medium heat. Bring to a boil and remove from heat. Allow to cool slightly. (Or you can heat it in the microwave until boiling, about 3 minutes.)
Melt 3 Tbsp of butter in the microwave. Set aside.
Combine yeast, warm water and 1 Tablespoon sugar in a mixing bowl. Allow yeast to bubble.
Add remaining sugar, honey, milk, and 3½ cups of flour to the yeast mixture. Mix together for a couple of minutes.
Add melted butter, eggs and salt; mix well.
Add additional flour ½ cup at a time until dough begins to separate from the sides. Let rest for a few minutes.
Knead dough for about 5 minutes. Add additional flour by the Tablespoon if dough gets sticky, but should be moist. (Don't dry it out.)
Remove dough from the bowl and grease the bowl. Return dough to the bowl and turn it over so all sides are covered in grease. Loosely cover bowl with greased plastic wrap. Allow to rise until doubled in size, about 45 minutes, depending how warm your house is. (I put mine in the microwave that was warm from heating my milk and butter.)
Once the dough has doubled, punch it down to release the air. Empty dough onto a lightly floured work surface. Using a rolling pin, roll the dough out till it is about ½-inch thick.
Fold the dough in half, so it's now about 1-inch thick, roll over the dough a little bit to seal the two halves together. Cut the dough into approximately 2-inch squares.
Place dough onto a greased baking sheet and cover loosely with greased plastic wrap. Allow to double in size again, about 1 hour.
Bake at 350*F for about 15-20 minutes, until golden brown.
Immediately rub the tops of the rolls with additional butter. Best served warm. Store extras in a zip-top bag.