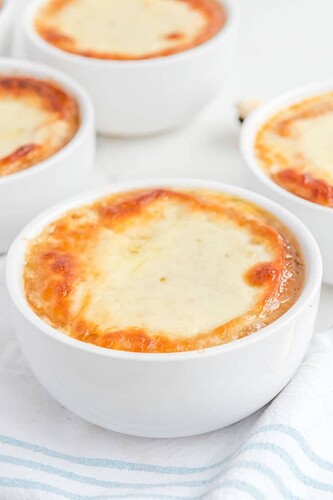 6 tablespoons butter divided
1 tablespoon olive oil
3 pounds yellow onions peeled and thinly sliced
1 teaspoon sugar
1/4 teaspoon salt
1 tablespoon flour
8 cups beef stock
2 cups dry white wine
1/2 teaspoon black pepper
4 hamburger buns
8 slices provolone cheese
Over medium heat, melt 3 tablespoons of the butter and the olive oil in a large, heavy stockpot. Add sliced onions; cover and cook, stirring occasionally until the onions are soft and translucent. Increase heat to high, remove the lid, and add sugar and salt. Saute, stirring often until onions are very soft and a deep golden brown.
Reduce heat to medium, sprinkle in flour and cook, stirring constantly, for 2 to 3 minutes. Add about 2 cups of stock and stir to blend, and then add the remaining beef stock and wine. Season to taste with salt and pepper and simmer for 30 minutes. Preheat oven to 425 degrees.
Brush hamburger buns with remaining butter and place bread in the oven to brown. When the bread is browned, remove it from the oven. Gather 8 small ovenproof bowls; spoon in soup. Add one bun half and top with one slice of provolone. Put soup bowls in a baking dish and place into the oven. When the cheese has toasted, remove soup from the oven. You may also wish to use a baguette if you have it on hand. You do not need to place the soup back into the oven. You can simply top with cheese and serve.