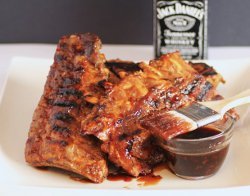 1 head of garlic
1 Tbsp. olive oil
2/3 cup water
1 cup pineapple juice
¼ cup teriyaki sauce
1 Tbsp. soy sauce
1 1/3 cup dark brown sugar
3 Tbsp. lemon juice
3 Tbsp. minced white onion
1 Tbsp. Jack Daniels Whiskey
1 Tbsp. crushed pineapple
¼ tsp. cayenne pepper
Preheat oven to 325F.
Slice a ½" off the top of the garlic head.
Cut the root end to sit flat.
Take off some of the outer layers of skin but leave enough to hold the head together.
Drizzle with olive oil and wrap in foil. Bake it for 1 hour.
Let it cool enough to handle then squeeze out the garlic paste and set aside.
Add the water, pineapple juice, teriyaki sauce, soy sauce and brown sugar to a medium pan over medium high heat.
Bring the mixture to a boil stirring occasionally.
Reduce heat to a simmer.
Whisk in the garlic and then the remaining ingredients to the pan.
Let simmer for 40-50 min. or until sauce is reduced by half.
It should be thick and syrupy and coat the back of a wooden spoon.