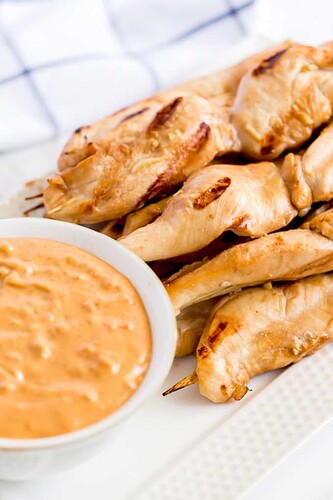 2 ½ pounds boneless and skinless chicken breast sliced into 1 ½ inch strips
Marinade:
2 garlic cloves, minced
¼ cup soy sauce
2 tablespoons sake
1 tablespoon brown sugar
1 tablespoon honey
1 teaspoon ground dry mustard
1 teaspoon roasted sesame oil
1 teaspoon lemon juice
½ inch ginger root, finely chopped
Peanut Sauce:
8 ounces peanut butter
4 garlic cloves, minced
2 ounces onion, finely chopped
2 tablespoons red curry paste
2 teaspoons fish sauce
1 cup coconut milk
In a large bowl or a large resealable plastic bag combine the marinade ingredients. Add the chicken to the marinade and toss to coat. Marinate in the refrigerator for 30 minutes or up to 6 hours.
In a medium bowl, mix together the peanut butter, garlic, onions, red curry paste, fish sauce and coconut milk. Mix gently until well combined. Cover with plastic wrap and reserve until needed.
If using wooden skewers, soak them in cold water for 20 to 30 minutes to prevent burning while grilling.
Remove the chicken from the marinade and discard the marinade. Thread the chicken onto skewers.
Preheat a grill or grill pan to medium high heat. Lightly oil the grill grates or grill pan. Place the skewers on the grill and cook for about 3-4 minutes on each side or until the chicken is cooked through and reaches an internal temperature of 160-165°F c
Remove the chicken skewers from the grill and let them rest for 5 to 10 minutes before serving.