The Breakfast Taco Book
by: Hilah Johnson
This book is packed with everything you need to know about breakfast tacos – including how to make them at home.
Discount Cookbook Club Members Get This Cookbook Free (Cookbook Club password required):
(The cookbook club is a paid subscription that is separate from our free recipe forums)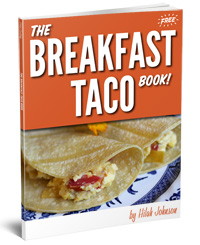 Full Description:
-I go on a Breakfast Taco tour of Austin, TX and eat WAY too many tacos.
-Hard-hitting investigative journalism reveals that Breakfast Tacos were actually invented by… COWBOYS?
-How to make all kinds of "taco guts" – even the kind with cactus!
-A cookbook that is very fun to read!
If you like this Breakfast Taco Book, then you will LOVE Hilah's other cookbook:
LEARN TO COOK: Learn To Cook – 150 easy recipes & video cooking lessons.
- Non Members Can Sign Up Here
- Or To Order This Title Separately Click Here