The Pressure Cooker Cookbook
Pressure cookers allow you to make fabulous meals in no time at all. In The Pressure Cooker Cookbook you will find over 100 tried and true recipes from appetizers to desserts.
A pressure cooker uses high temperature and steam pressure to seal in the flavor and cut down the cooking time.
Discount Cookbook Club Members Get This Cookbook Free (password required):

(The cookbook club is a paid subscription that is separate from our free recipe forums)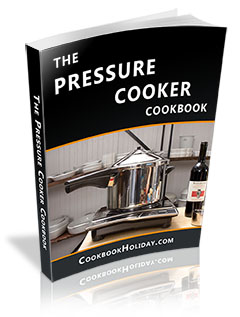 Here are just a few of the pressure cooker recipes you will find inside this cookbook:
Applesauce
Artichokes with Lemon Pepper Oil
Barbecued Chicken
Braised Pork Chops
Chicken Stock
Corned Beef with Vegetables
Curried Chicken Salad
Golden Split Pea Soup
Lemon Cheesecake
Osso Buco
Poached Pears in Red Wine
Roasted Potatoes with Herbs
Quick Tomato Sauce
Rice Pilaf with Nuts
Risotto with Fresh Asparagus
Savory Black Beans
Spicy Chicken Corn Chowder
Swiss Style Pork Chops
and Many More!

Enjoy these recipes and many more inside The Pressure Cooker Cookbook.
- Non Members Can Sign Up Here
- Or To Order This Title Separately Click Here