Today's 5 star secret recipe comes from the Sweet Life Cafe on Massachusetts Martha's Vineyard. This upscale spot in a tranquil space with seasonal, area-sourced New American fare. They serve a delightful bowl of white gazpacho with pureed cucumbers, steamed clams, grapes, almonds and smoked paprika oil.
To make smoked paprika oil, warm 1/3 cup olive oil with 2 tablespoons smoked paprika in a small saucepan, then strain through cheesecloth and cool before using. The restaurant also suggests garnishing the soup with clams steamed in white wine.
Enjoy!
=-=-=-=-=-=-=-=-=-=-=-=-=-=
Lose Weight While Still Enjoying Your Favorite Restaurants
Try this Water Hack
=-=-=-=-=-=-=-=-=-=-=-=-=-=
=-=-=-=-=-=-=-=-=-=-=-=-=-=
New 5 Star Secret Recipe
=-=-=-=-=-=-=-=-=-=-=-=-=-=
The Sweet Life Cafe's White Gazpacho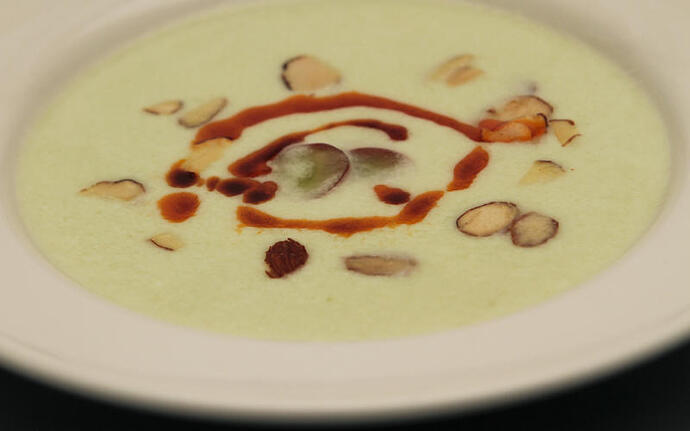 2 hothouse cucumbers, peeled and chopped (seeds can be removed)
1/2 bunch green grapes (about 2 cups)
3 cloves garlic
1 cup yogurt, preferably Greek style
1/2 cup sour cream or creme fraiche
Juice of 1/2 lemon
1 tablespoon salt, or to taste
Tabasco, or similar hot sauce
1 tablespoon sugar
1 teaspoon sherry vinegar or red wine vinegar, or as desired
Toasted almonds, for garnish
Sliced red grapes, for garnish
Smoked paprika oil, for garnish
Puree the cucumbers in a blender. Push the cucumbers through a sieve into a medium bowl. Blend the grapes and garlic in the blender, then push through a sieve and stir into the cucumbers.
Whisk in the yogurt, sour cream and lemon juice, and season with the salt, sugar and vinegar. Add the Tabasco to taste. This makes about 1 1/2 quarts of soup. Chill the soup, then divide among chilled bowls and garnish with the almonds, grapes and paprika oil before serving.
Serves 4-6
Source: LA Times
Until Next Time… Be Well!
Kind Regards,