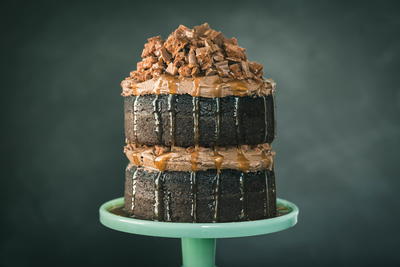 2 cups flour
1 3/4 cups granulated sugar
3/4 cup unsweetened cocoa powder
1 tablespoon baking soda
1/2 teaspoon salt
1 egg
2/3 cup canola oil
3/4 cup buttermilk
1/2 cup Irish cream liqueur (e.g. Baileys, Ryans)
1/2 cup strong black coffee
For the Mexican Chocolate Frosting:
15 ounces European style butter, room temperature
5 cups powdered sugar
5 tablespoons heavy cream
2 1/2 teaspoons vanilla
2 teaspoons cinnamon
6 ounces bittersweet chocolate, melted then cooled
6 ounces white chocolate, melted and cooled
1 1/4 teaspoon kosher salt
1 package of Tim Tams (or cookies of your choice)
For the Caramel Drizzle:
1/2 cup light corn syrup
1/2 cup dark brown sugar, packed
2 tablespoons butter
1/2 cup heavy whipping cream
Brew the coffee.
Pre-heat the oven to 350° F.
Butter and flour two 9 inch cake pans. I also like to put a buttered and floured parchment paper round on the bottom of the pan as extra anti-stick insurance.
Sift together the flour, sugar, cocoa powder, salt & baking soda in a large bowl.
In a medium sized bowl, beat together the egg, oil, buttermilk, Irish cream liqueur, and coffee.
Mix together the wet and dry ingredients.
Pour the batter into your prepared cake pans.
Bake for 35-45 minutes or until a toothpick inserted in the center comes out clean.
Cool the cakes for 20 minutes on a wire rack.
Remove the cakes from the pans and allow them to cool completely.
Frost each layer with the Mexican Chocolate Frosting and top with chopped Tim Tams. For extra decadence, drizzle with caramel.
For the Mexican Chocolate Frosting:
I followed The Kitchy Kitchen's recipe from her amazing Churro Cake, except I doubled the amount of cinnamon (the cinnamon addict in me). You can find the directions for this insanely delicious frosting HERE
For the Caramel Drizzle:
Combine corn syrup, brown sugar, and butter in a small saucepan.
Bring to a boil over medium-low heat. Be sure to stir constantly.
Boil for 5 minutes, stirring occasionally.
Stir in whipping cream
Heat to a boil.
Remove from heat.
Allow to cool until the desired consistency, then drizzle on the cake.
Note: It is recommended that the Tim Tams be placed on the cake before serving as they will soften us as they sit on the cake.