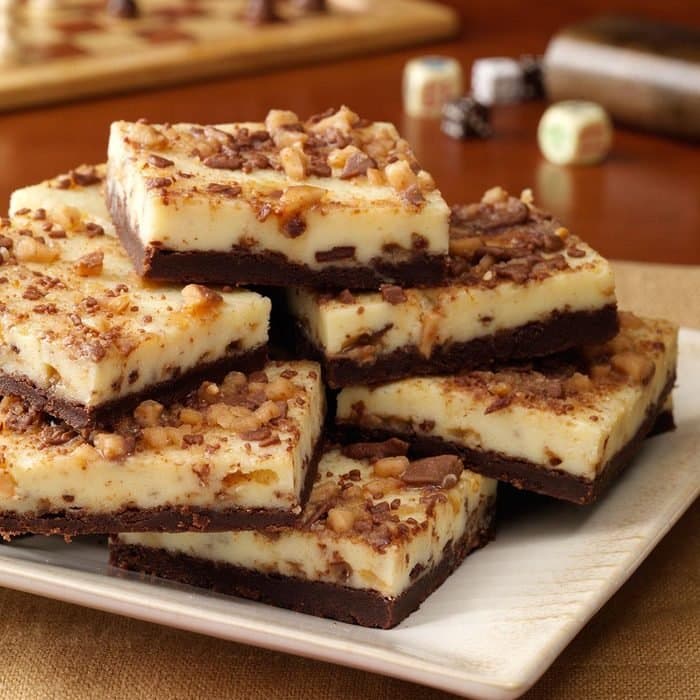 1 1/4 cups all-purpose flour
1 cup confectioners' sugar
1/2 cup cocoa powder
1/4 teaspoon baking soda
3/4 cup (11/2 sticks) butter or margarine, softened
8 ounces cream cheese, softened
1 (14 ounce) can sweetened condensed milk
2 eggs
1 teaspoon vanilla extract
1 3/4 cups (10 ounce package) English toffee bits, divided
Preheat oven to 350 degrees F.
Combine flour, confectioners' sugar, cocoa and baking soda in medium bowl; cut in butter until crumbly. Press into bottom of ungreased 13 x 9-inch baking pan. Bake 15 minutes.
Beat cream cheese until fluffy. Add sweetened condensed milk, eggs and vanilla extract; beat until smooth. Stir in 1 cup toffee bits. Pour mixture over hot crust. Bake 25 minutes or until set.
Remove from oven. Cool about 15 minutes.
Sprinkle remaining 3/4 cup toffee bits evenly over top. Cool completely. Refrigerate several hours or until cold. Store leftover bars covered in refrigerator.
Makes about 36 bars.