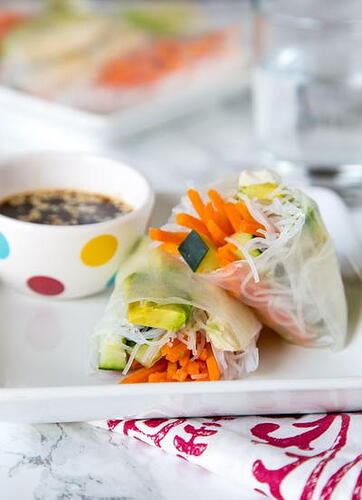 1 cup cooked chicken, thinly sliced
1 1/2 cup match stick carrots
1 avocado, sliced
1 cucumber, thinly sliced
2 cups rice noodles, cooked according to package directions
8 sheets rice paper
Dipping Sauce
1/3 cup Teriyaki Sauce (low sodium)
1/2 tsp fresh ginger, grated
1/2 tsp garlic, grated
1 tsp sesame seeds
Fill a 13x9 inch baking dish with warm water. Place 1 sheet if rice paper in. Let sit for 15-20 seconds until soft and pliable.
Spread on a plate. Fill with about 1/4 cup carrots, and rice noodles, 2 slices of avocado, a couple slices of chicken, and a few cucumber slices.
Fold over the bottom half, fold in both of the sides, and roll to close. Place on a tray or plate.
Repeat with the rest of the ingredients. Place in fridge until ready to serve.
Mean while to prepare the dipping sauce mix together teriyaki sauce, garlic and ginger until smooth. Sprinkle with sesame seeds.