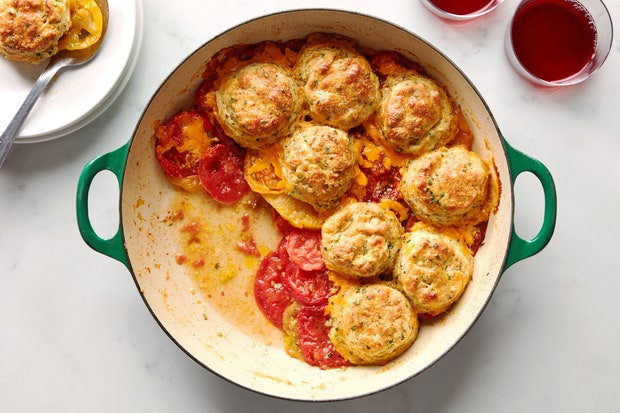 2 1/2 lb. tomatoes, cored, sliced 1/4" thick
1 Tbsp. plus 1/2 tsp. kosher salt
2 tsp. freshly ground black pepper
1 1/2 tsp. baking powder
1/2 tsp. baking soda
1 1/2 cups all-purpose flour, plus more for surface
5 Tbsp. cold unsalted butter, cut into 1/2" pieces
2/3 cup buttermilk
1/4 cup finely chopped chives
4 oz. coarsely grated sharp cheddar (about 1 1/2 cups), divided
2 Tbsp. extra-virgin olive oil
6 sprigs thyme
1 large egg
Preheat oven to 400°F. Gently toss tomato slices with 1 Tbsp. salt in a medium bowl,
then arrange in an even layer on paper towels.
Let sit until most of the juices are released, about 15 minutes.
Pat tomatoes dry with more paper towels.
Meanwhile, whisk pepper, baking powder, baking soda, 1 1/2 cups flour,
and 1/2 tsp. salt in a large bowl to combine.
Cut in butter with a pastry cutter or 2 butter knives until pea-size pieces form.
Stir in buttermilk, chives, and 3/4 cup cheese with a wooden spoon until a shaggy dough forms.
Turn out dough onto a lightly floured work surface.
Gently knead 2–3 times until dough just comes together, being careful not to overwork.
Roll out dough to 3/4" thick. Cut with a 2" flour-dipped biscuit cutter or small glass.
Transfer to a plate or baking sheet and chill until ready to use.
Pour oil into a large deep heatproof skillet or braising dish.
Arrange tomato slices in even layers in pan (about 3 layers); top with thyme.
Roast until tomato juices start to bubble, 15–20 minutes.
Discard thyme sprigs.
Flatten tomatoes into an even layer with a spatula, then sprinkle with remaining 3/4 cup cheese.
Arrange biscuits over, spacing about 1" apart.
Whisk egg and 1 Tbsp. water in a small bowl.
Brush biscuits with egg wash.
Bake until biscuits are golden brown and firm to the touch, 18–20 minutes.
Let cool 5–10 minutes before serving.