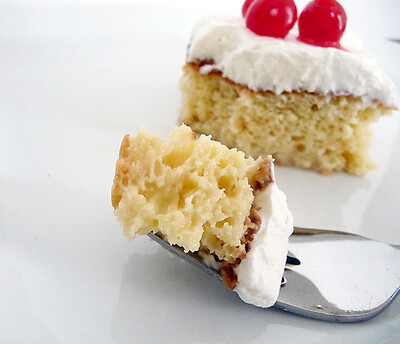 For the Cake:
1 cup all-purpose flour
1½ teaspoons baking powder
¼ teaspoon salt
5 eggs, separated
1 cup granulated sugar, divided
1 teaspoon vanilla extract
1/3 cup whole milk
1 can (12 ounces) evaporated milk
1 can (14 ounces) sweetened condensed milk
¼ cup heavy cream
For the Frosting:
2 cups heavy cream
3 tablespoons granulated sugar
Preheat oven to 350 degrees F. Grease and flour a 9x13-inch baking pan and set aside.
In a large bowl, whisk together the flour, baking powder and salt; set aside.
In the bowl of an electric mixer fitted with the whisk attachment, whisk the egg yolk and ¾ cup granulated sugar on medium-high speed until the mixture is thick and pale yellow. Add the whole milk and vanilla extract and mix to combine. Pour the egg yolk mixture over the flour mixture and, using a rubber spatula, gently fold together until thoroughly combined.
Clean out the bowl and the whisk. Add the egg whites to the bowl and whisk at high speed until soft peaks begin to form. With the mixer still running, pour in the remaining ¼ cup of granulated sugar and beat until the egg whites are stiff but not dry.
Working in three batches, gently fold the egg whites into the batter until just combined. Pour the batter into the prepared pan and smooth the surface with a spatula.
Bake for about 30 minutes, or until a toothpick inserted in the center comes out clean. Turn the cake onto a cooling rack and allow to cool completely.
Transfer the cake to a rimmed serving plate. Mix together the evaporated milk, condensed milk and heavy cream in a small pitcher. When the cake is cool, pierce the surface of the cake all over with a fork. Slowly drizzle all but 1 cup of the milk mixture over the top of the cake, making sure to get around the edges of the cake. (You can discard the remaining 1 cup of milk mixture.) Allow the cake to absorb the milk mixture for about 30 minutes.
To frost the cake, whip 2 cups of the heavy cream with 3 tablespoons of granulated sugar until thick and stiff peaks form. Spread over the surface of the cake. Garnish with maraschino cherries, if desired.
Pioneer Woman