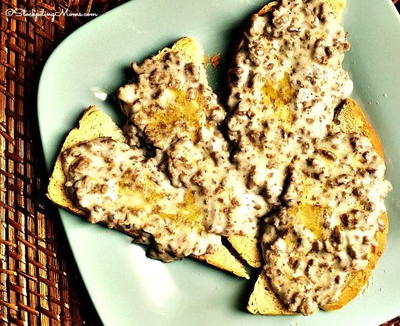 1 pound lean ground beef or ground turkey
¼ cup all-purpose flour
2 cups milk
1½ teaspoons salt
¼ teaspoon pepper
4 white bread slices, toasted and cut in half diagonally
Butter, to top
Sauté the beef in a large skillet over medium heat, breaking it up with a wooden spoon and cooking until it is no longer pink, 12 to 15 minutes.
Drain off the excess fat and sprinkle the meat with the flour.
Stir and cook the beef and flour over medium heat until the flour has completely coated the beef and cooked slightly.
Stir in the milk and continue to cook until the mixture becomes smooth and thickens, about 8 minutes.
Add the salt and pepper.
Serve over toast triangles.
Top with a pat of butter.