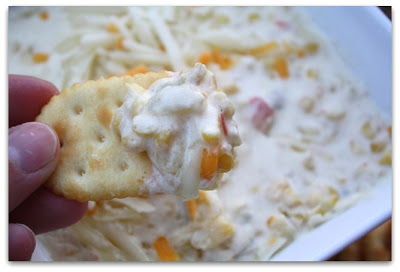 2 cans (11 ounce) mexicorn, drained
2 cans (4 ounce) chopped green chilies, drained
2 cups grated monterey jack cheese (about 8 ounces)
3/4 cup grated parmesan cheese
1 cup mayonnaise
corn chip scoops
Preheat the oven to 350°F. Grease a 9 × 13 × 2-inch casserole dish.
In a medium bowl, mix the corn, chile's, cheeses, and mayonnaise until fully combined.
Spread the mixture in the prepared casserole dish and bake, uncovered,
for 30 to 40 minutes, or until bubbly around the edges.
Serve the dip warm from the oven with corn chips.