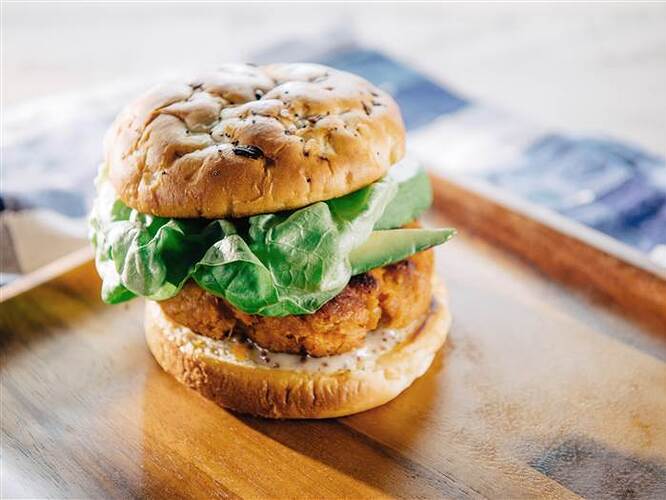 Honey mustard sauce
1/2 cup mayonnaise
1/2 cup whole-grain Dijon mustard
1/4 cup honey
Burgers
2 large sweet potatoes, holes poked with a fork
Two 15-ounce cans garbanzo beans, drained and rinsed
1 egg, beaten
1 teaspoon chili powder
1/4 cup all-purpose flour
2 cups fine breadcrumbs
1/2 cup finely grated Parmesan
Salt and pepper
2 tablespoons olive oil
2 tablespoons butter
To serve
6 onion rolls, toasted
Bibb lettuce leaves
Sliced avocado
For the honey mustard sauce: In a bowl, combine the mayo, mustard and honey; mix well.
For the "sweet pea" burgers: Preheat the oven to 400 degrees F.; line a baking sheet with aluminum foil. Set the sweet potatoes on the baking sheet and bake until soft, 1 hour. Remove from the oven and let cool.
When cool enough to handle, halve the sweet potatoes, then scoop the flesh into a medium bowl and mash with the garbanzo beans. Add the egg, chili powder, flour, breadcrumbs, Parmesan and some salt and pepper. Mix until fully combined. Form the mixture in 6 patties.
In a large skillet over medium heat, heat the oil and butter, swirling them together. Add the patties to the skillet and cook until brown and crispy, about 5 minutes per side. Transfer to a paper-towel-lined plate to drain.
Serve the burgers on toasted onion rolls spread with honey mustard sauce. Top with lettuce and avocado.