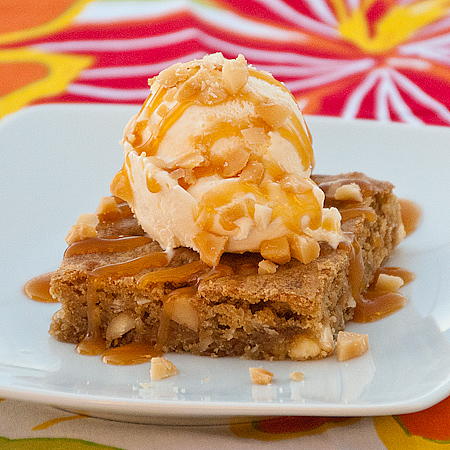 1½ cup butter, melted
3 cups firmly packed brown sugar
6 eggs
3 tsp. vanilla
3 cups flour
1 tsp. baking powder
1 cup chopped macadamia nuts
1 cup coconut
2 cups white chocolate chips
vanilla ice cream
caramel sauce
more chopped macadamia nuts, optional
Preheat oven to 325 degrees. Grease a jelly roll pan (this is the bakers half sheet size - it's like 11½ inch x 16½ x 1 or you could use 2 9×13 inch pans. The pie may be a little thicker and may take a little longer to cook).
In a large bowl, combine sugar and melted butter; beat with electric mixer. Add eggs, one at a time, and vanilla; mix well.
Combine flour and baking powder in a separate bowl. Add to the sugar mixture; mix well.
Stir in nuts, coconut, and white chocolate chips. Pour batter into prepared pan.
Bake 40+ minutes until a toothpick inserted in the center comes out clean.
Serve warm, or reheat individual servings in the microwave (10 seconds for a serving). Top with ice cream drizzled with caramel sauce then sprinkled with chopped macadamia nuts. Or just eat them like a brownie or bar cookie. They are also excellent that way too.
Makes 24.