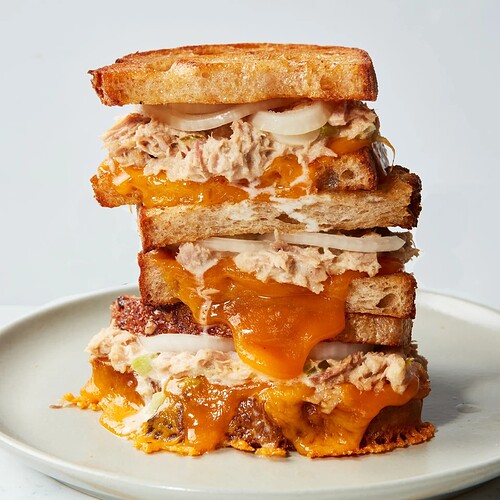 ½ medium onion, thinly sliced
1 cup seasoned rice vinegar
2 (5-oz.) cans tuna packed in olive oil, drained
¼ cup mayonnaise, plus more for spreading
2 Tbsp. chopped celery
1 Tbsp. chopped dill pickles
Kosher salt, freshly ground pepper
8 slices sourdough bread
8 slices sharp cheddar
Dill pickle spears, optional
Combine onion and 1 cup seasoned rice vinegar in a small bowl. Set aside.
Gently mix tuna with ¼ cup mayonnaise, 2 Tbsp. chopped celery, and 1 Tbsp. chopped pickles in a medium bowl until just combined. Season with kosher salt and freshly ground pepper.
Heat a dry large cast-iron skillet over medium-low. Spread mayonnaise over 1 side of 2 slices sourdough bread. Place bread, mayo side down, in skillet; top 1 bread slice with 2 slices sharp cheddar. Cover with a lid and cook until bread is golden brown underneath and cheese is melted, about 4 minutes. (The cheese should form a crispy skirt around the bread.)
Uncover skillet and top bread with melted cheddar with one fourth of tuna salad, then some drained reserved pickled onion. Close up sandwich and gently press down on sandwich with a spatula. Transfer to a cutting board and slice in half on a diagonal. Repeat cooking process 3 more times with more mayonnaise and remaining tuna salad, pickled onion, 6 slices sourdough bread, and 6 slices sharp cheddar to make 3 more sandwiches.