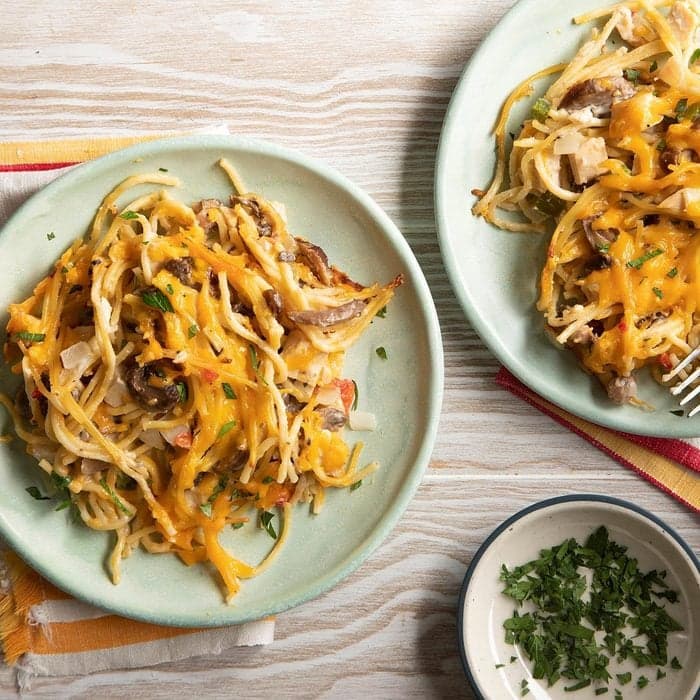 1 package (1 pound) linguine
6 tablespoons butter
6 tablespoons all-purpose flour
1/2 teaspoon salt
1/4 teaspoon pepper
1/8 teaspoon cayenne pepper
3 cups chicken broth
1 cup heavy whipping cream
4 cups cubed cooked turkey
1 cup sliced fresh mushrooms
1 jar (4 ounces) diced pimientos, drained
1/4 cup chopped fresh parsley
4 to 5 drops hot pepper sauce
1/3 cup grated Parmesan cheese
Cook pasta according to package directions. In a saucepan, melt butter over medium heat. Stir in the flour, salt, pepper and cayenne until smooth. Gradually add broth. Bring to a boil; cook and stir for 2 minutes or until thickened. Remove from the heat; stir in cream.
Drain linguine; add 2 cups sauce and toss to coat. Transfer to a greased 13-in. x 9-in.x 2-in. baking dish. Make a well in center of noodles, making a space about 6 in. x 4 in…
To the remaining sauce, add the turkey, mushrooms, pimientos, parsley and hot pepper sauce; mix well. Pour into center of dish. Sprinkle with Parmesan cheese.
Cover and bake at 350° for 30 minutes. Uncover; bake 20-30 minutes longer or until bubbly and heated through.