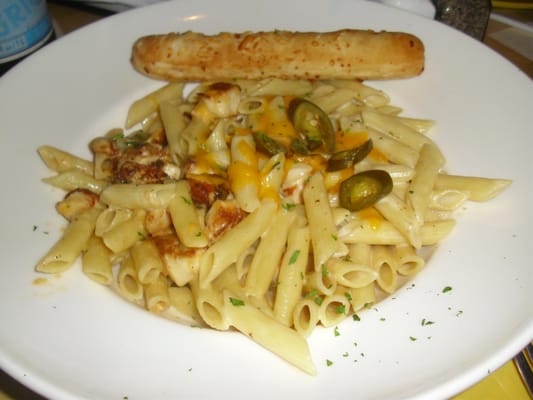 1 lb chicken breast, boneless, skinless, cubed
2 tablespoons butter
2 garlic cloves, minced
1/2 tablespoon italian seasoning
1 lb penne
4 tablespoons butter
2 garlic cloves, minced
1/4 cup all purpose flour
1 tablespoon salt
3/4 teaspoon white pepper
2 cups milk
1 cup half and half
3/4 cup parmesan cheese, grated
8 ounces colby cheese, grated
3 jalapeno peppers, sliced
In a large skillet, melt 2 tablespoons of butter. Add minced garlic and Italian seasoning and cook for about 1 minute. Then add the chicken, cooking until done. Set chicken aside.
Cook one pound of penne pasta according to instructions on package, removing from the water just shy of al dente. In the same pan the chicken was in, melt 4 tablespoons of butter. Add garlic and cook for about 30 seconds. Add the flour, salt & pepper all at once, to make a roux. Stir and cook for about 2 minutes. Add the milk and half and half to the roux, stirring constantly until smooth and thickened, about 5-6 minutes. Add the cheeses and stir until melted. Stir in chicken and jalapeno peppers. Toss with pasta.
Serves 6-8