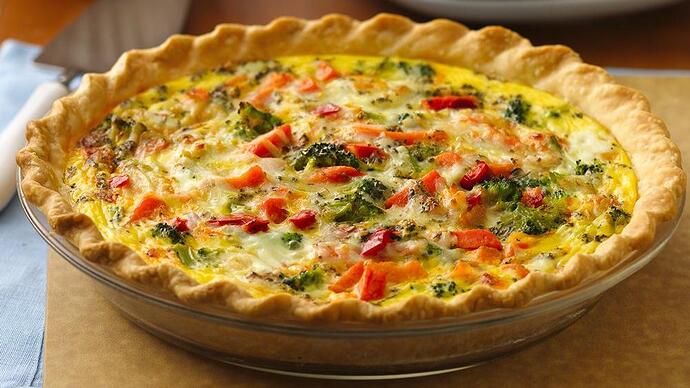 1 sheet frozen Puff Pastry, thawed
6 large eggs
1/2 cup heavy whipping cream
1/4 cup milk
1/2 tsp garlic salt
1/4 tsp black pepper
1/2 tsp dried parsley
1/2 tsp dried onion flakes
3/4 cup shredded parmesan cheese
1 1/2 cup shredded cheddar cheese
1 1/2 cup chopped vegetables (I used green pepper, red pepper, mushrooms and broccoli)
Allow frozen puff pastry to thaw, according to package directions. Once thawed, press into a 9-inch pie plate.
Beat eggs, heavy cream, milk, garlic, pepper, parsley and onion flakes until fully combined. Add in cheeses and vegetables. Pour into pie plate.
Bake in a 375 degree oven for 30-35 minutes. Remove and allow to cool 10-15 minutes before slicing and serving.