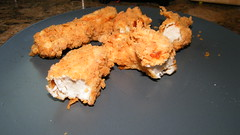 1 to 1 1/2 pounds chicken tenders
2 cups all-purpose flour
1 1/2 teaspoon salt
1 1/2 teaspoon pepper
1/2 teaspoon garlic salt
2 1/2 cups buttermilk
oil for frying
Chicken is best when soaked in buttermilk overnight – but in a rush – soak for at least 2 hours – in fridge.
Whisk flour, salt, pepper, and garlic salt. Stir the flour until it is well blended for your seasoned flour. To make it into a batter add 1/2 cup of the buttermilk
Make a batter of the seasoned flour and buttermilk by pouring in about 1/2 cup of the buttermilk into the flour. You want the batter a little shaggy. Coat the chicken with the batter and place on a rack and allow it to dry. The batter may fall off when cooking if you don't allow the batter to dry on the chicken.
Preheat oil to 350 degrees. Gently place a few at a time into the oil, cooking until golden on both sides. Remove to clean wire rack to drain.
Serve with your choice of dipping sauce.