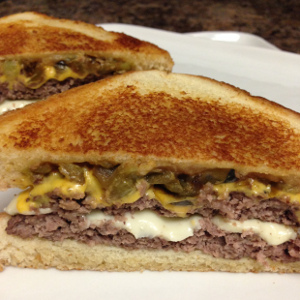 4 ground beef patties
1 fresh green chile (Anaheim pepper)
2 American Cheese Singles
2 Swiss Style Processed Cheese Singles
4 slices of Texas toast (from a loaf of plain Texas toast bread)
butter
Seasoned hamburger patties with salt, pepper, and garlic powder and then cook them in a skillet until medium-well.
While hamburgers are cooking, wash green chile, cut in half and remove seeds and ribs.
Place pepper halves, skin side up, onto a baking sheet and place under oven broiler.
Keep an eye on the peppers and remove them from the oven when their skins are lightly charred.
Let peppers cool slightly.
Leaving the pepper's skin on, chop pepper into small pieces.
Green Chile Double Cheeseburger
Now assemble your burger, alternating beef and cheese patties, top with green chiles. Lightly butter the outside of the Texas toast. Place in a skillet over low heat. Toast sandwich on both sides, remove from heat when cheese has melted.