Something colorful for your Christmas table.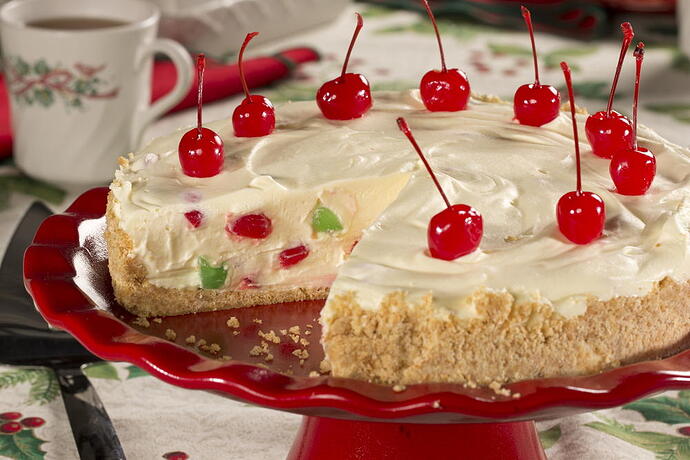 1 (11-ounce) package vanilla wafer cookies, finely crushed
1/2 cup (1 stick) butter, melted
4 egg yolks
2 eggs
2 (11-ounce) packages white chocolate chips
2 cups (1 pint) heavy cream
1/3 cup confectioners' sugar
1 (10-ounce) jar red maraschino cherries, drained and quartered
1 (6-ounce) jar green maraschino cherries, drained and quartered
16 stemmed red maraschino cherries, well drained
In a medium bowl, combine crushed vanilla wafers and butter; mix well. Press into a 10-inch springform pan, covering bottom and sides to form a crust; chill.
Meanwhile, in a small bowl, combine egg yolks and whole eggs; beat well and set aside.
In a large saucepan over medium-low heat, melt white chocolate chips 3 to 4 minutes, stirring constantly. Add egg mixture and quickly whisk until well blended. Remove from heat and set aside to cool slightly.
Meanwhile, in a medium bowl, beat heavy cream until soft peaks form. Add confectioners' sugar and beat until stiff peaks form. Fold into slightly cooled white chocolate mixture until well blended. Stir in chopped red and green cherries and spoon into prepared crust. Place stemmed cherries around edge of cake.
Cover and freeze overnight, or until firm.
Mr. Food