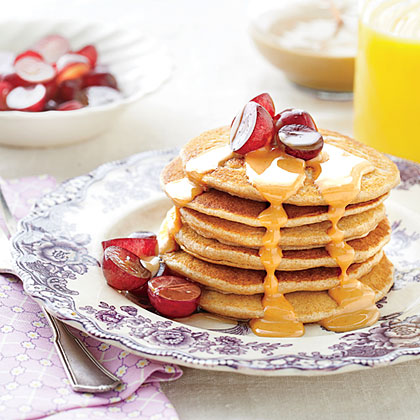 1 cup fat-free milk
2 large egg whites
2 tablespoons dark brown sugar
2 tablespoons olive oil
2 tablespoons apple cider vinegar
1 cup whole wheat flour
1 tablespoon baking powder
1/4 teaspoon table salt
1/2 cup creamy peanut butter
Sliced grapes, syrup
Stir together milk, egg whites, brown sugar, olive oil, and vinegar in a medium bowl. Stir in whole wheat flour, baking powder, and salt until just combined. Pour about 2 Tbsp. batter for each pancake onto a hot, lightly greased griddle or large skillet. Cook pancakes over medium-high heat 3 minutes or until tops are covered with bubbles and edges look dry and cooked; turn and cook other side. Microwave peanut butter in a microwave-safe bowl 45 seconds; drizzle over pancakes, and serve immediately with sliced grapes and syrup.
Southern Living