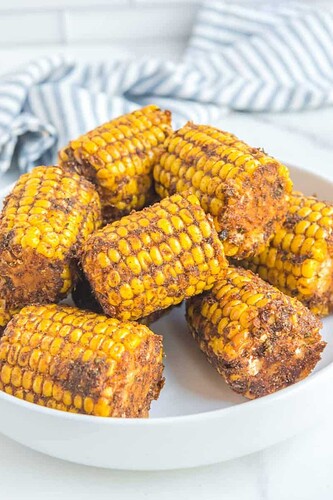 12 frozen mini corn cobs thawed
vegetable oil for frying
2 teaspoons garlic powder
1 teaspoon onion powder
2 teaspoons paprika
1 teaspoon oregano
1 teaspoon black pepper
1½ teaspoons cayenne pepper
2 teaspoons thyme
1-½ teaspoons salt
2 tablespoons vegetable oil
Add oil into a stovetop deep pan for the fryer to allow it to heat to 350°F over medium heat. Fry 3 to 5 cobs at a time.
Carefully add the corn to the oil using a pair of tongs. It should start bubbling right away.
Cook each corn cob for 3 to 4 minutes or until slightly golden brown. The edges of the kernels will appear slightly crispy.
When done, remove cobs from the oil using the tongs and allow them to rest on a bed of paper towels to drain.
In a small mixing bowl, combine all seasonings together. Blend well with a fork.
When all of the cobs are fried, add them to the bottom of a large mixing bowl.
Top with seasoning blend and 2 tablespoons of vegetable oil. Toss well with a rubber spatula or mixing spoon.