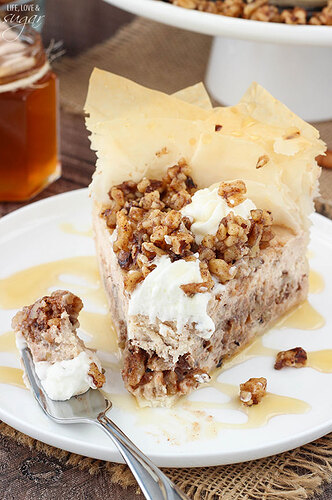 Crust
4 tbsp butter, melted
Phyllo dough (about 20 sheets)
Cheesecake filling
2 8-ounce packages cream cheese, softened
2/3 cup sugar
2 tbsp all purpose flour
3 eggs
2/3 cup sour cream
6 tbsp honey
1 1/2 tsp ground cinnamon
Walnut filling and topping
3 3/4 cups finely chopped walnuts
3 tsp cinnamon
6 tbsp butter, melted
10 tbsp honey
Preheat oven to 300 degrees.
In a large bowl, mix the cream cheese, sugar and flour until combined (Use low speed to keep less air from getting into the batter, which can cause cracks). Scrape down the sides of the bowl.
Add eggs one at a time, beating slowly and scraping the sides of the bowl after each addition.
Add the sour cream, honey and cinnamon. Beat on low speed until well combined. Set aside.
In a medium sized bowl, toss together 2 1/2 cups of chopped walnuts, 2 tsp ground cinnamon, 4 tbsp melted butter and 6 tbsp of honey. Set aside.
Grease a 9 inch springform pan and cover the outside with aluminum foil so that it's ready for a water bath.
To prepare the crust, unroll the phyllo dough according to package instructions. You'll need to keep it from drying out by placing a damp towel over the pieces that haven't been used yet. Using one piece at a time, place phyllo sheets into the bottom and up the sides of the springform pan. The sheets won't be as big as the pan, but using a few for each layer you should be able to get one full layer. Layer the melted butter between the phyllo sheets so that they stick together.
Once the crust is ready, add a small amount of cheesecake filling to the pan. It should be just enough to thinly coat the bottom of the crust.
Add the walnut filling in an even layer on top of the cheesecake filling.
Add the remaining cheesecake filling and spread into an even layer.
Place springform pan (covered with aluminum foil) inside another pan. Fill outside pan with enough warm water to go about halfway up the sides of the springform pan. The water should not go above the top edge of the aluminum foil on the springform pan.
Bake for 50-60 minutes. The edges should be firm but the center will still be a little jiggly.
Turn off heat and leave cheesecake in oven with door closed for 30 minutes.
Crack oven door and leave the cheesecake in the oven for about 20 minutes.
Remove cheesecake from oven and chill until completely cool and firm.
To finish off cheesecake, toss together remaining 1 1/4 cups walnuts, 1 tsp cinnamon, 2 tbsp melted butter and 4 tbsp honey. Top cheesecake with whipped cream and walnut mixture.