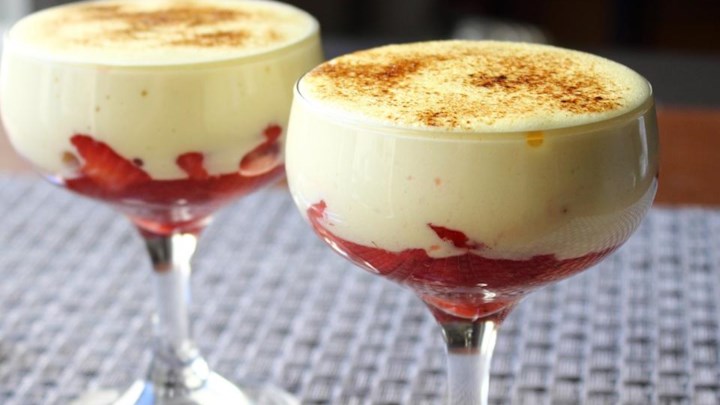 1/2 cup strawberries - hulled, halved and sliced
1 teaspoon white sugar
3 large egg yolks
3 tablespoons white sugar
1/4 cup dry Marsala wine
Gently stir the strawberries and sugar together in a bowl. Cover and let sit at room temperature until juices release, about 1 hour.
Divide fruit between 2 small, clear serving bowls or stemmed cocktail glasses.
Place egg yolks, sugar, and marsala into metal mixing bowl. Set over burner on low heat. Hold rim of bowl with a potholder. Whisk until mixture forms loose peaks, 7 or 8 minutes. Mixture should feel warm to the touch.
Spoon custard over the strawberries. Serve while custard is still warm.
Cook's Note:
Instead of placing the metal mixing bowl over low heat to whisk the custard, you can set the bowl over a pot of slowly simmering water.
Chef John