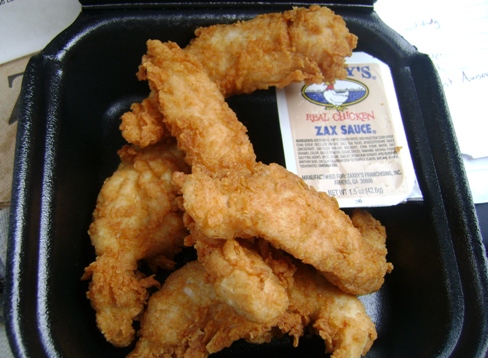 1/3 cup lowfat buttermilk
1/4 teaspoon salt
1/4 teaspoon freshly ground pepper
nonstick cooking spray
1 1/2 pounds boneless, skinless chicken breasts
1 cup unseasoned bread crumbs
1/3 cup all purpose flour
1 egg, beaten
1 cup crushed cornflakes
1/2 teaspoon Italian seasoning
Cut your chicken breasts across into half inch pieces. Preheat the oven to 400 degrees. Place the chicken and buttermilk into a shallow dish and cover. Chill the chicken for at least fifteen minutes. Spray a cookie or baking sheet with nonstick cooking spray.
Combine the bread crumbs, corn flakes, salt, pepper, and Italian seasoning in a shallow bowl.
Beat your egg in another shallow bowl. Place the flour in a shallow plate. Cover the chicken fingers in flour, then dip in the egg, and finally cover them with the cornflake and bread crumb mixture. Arrange the chicken fingers on your baking sheet. Bake for about eight minutes, or until cooked through.