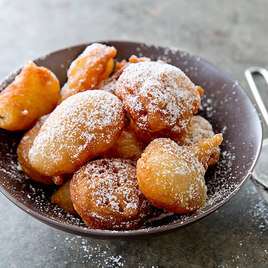 1 1/3 cups (6 2/3 ounces) all-purpose flour
1 tablespoon granulated sugar
2 teaspoons instant or rapid-rise yeast
1 teaspoon baking powder
1/2 teaspoon salt
1 cup warm water (110 degrees)
1/2 teaspoon vanilla extract
2 quarts peanut or vegetable oil
Confectioners' sugar
Combine flour, granulated sugar, yeast, baking powder, and salt in large bowl. Whisk water and vanilla into flour mixture until fully combined. Cover tightly with plastic wrap and let rise at room temperature until doubled in size, 15 to 25 minutes.

Set wire rack in rimmed baking sheet and line rack with triple layer of paper towels. Adjust oven rack to middle position and heat oven to 200 degrees. Add oil to large Dutch oven until it measures about 1 1/2 inches deep and heat over medium-high heat to 350 degrees.

Using greased tablespoon measure, add 6 heaping tablespoonfuls of batter to oil. (Use dinner spoon to help scrape batter from tablespoon if necessary.) Fry until golden brown and toothpick inserted in center of zeppole comes out clean, 2 to 3 minutes, flipping once halfway through frying. Adjust burner, if necessary, to maintain oil temperature between 325 and 350 degrees.

Using slotted spoon, transfer zeppoles to prepared wire rack; roll briefly so paper towels absorb grease. Transfer sheet to oven to keep warm. Return oil to 350 degrees and repeat twice more with remaining batter. Dust zeppoles with confectioners' sugar and serve.