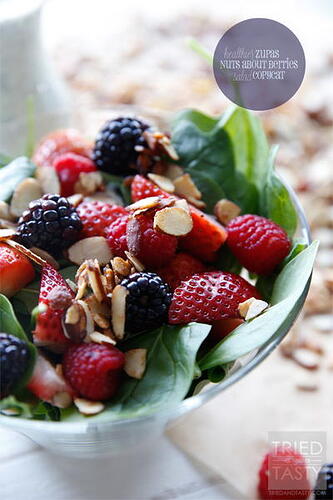 Salad
Fresh spinach
Fresh strawberries, quartered
Fresh blackberries
Fresh raspberries
Maple Candied Almonds
1 tbsp. unrefined coconut oil
1 1/2 tbsp. pure maple syrup
1/4 tsp. vanilla extract
1 c. sliced almonds
Poppyseed dressing
3 tbsp. mayonnaise
2 tbsp. milk of choice
2 tbsp. honey
1 tbsp. poppy seeds
1 tbsp. white wine vinegar
Wash spinach (unless it's pre-washed) and berries and set aside.
In a skillet over medium-low heat, melt coconut oil.
Add maple syrup and vanilla; stir well.
When bubbling, add almonds and stir to coat evenly.
Stir constantly for about 5 minutes, being careful to not burn them.
Remove pan from heat and transfer almonds onto wax or parchment paper to cool.
Cool completely before adding to salad.
For the salad dressing, combine all ingredients in a small bowl whisk until smooth.
Top spinach and berries with maple candied almonds and drizzle with 1-2 tbsp. poppyseed dressing.