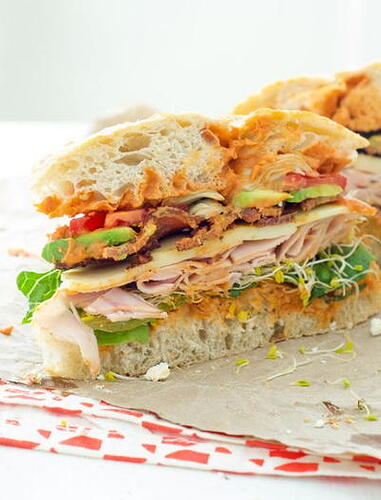 2 red bell peppers
1 jalapeno
canola oil
1/8 c lemon juice
3/4 T soy sauce
1 1/4 t salt
1 t cumin
1/4 t coriander
1 t smoked paprika
1/8 c tahini paste (this can be difficult to find, I get mine at Sprouts next to the peanut butter)
5 garlic cloves, pressed through a garlic press
2 cans cannellini or great northern beans, drained
ciabatta bread slices
turkey shavings
swiss cheese
bacon slices
tomato slices
lettuce
sprouts
avocado slices
artichoke hearts
feta cheese
freshly-cracked pepper
Preheat oven (or grill) to 450 degrees. Cover peppers and jalapeño with oil.
Roast (or grill) until skin is blackened.
Let rest.
Place all remaining ingredients in blender and blend until creamy.
Remove stems from peppers, slit open jalapeño and deseed. Add to blender and blend until creamy.
Slather hummus on ciabatta slices, build sandwich with fillings.