101 Instant Pot Recipes For Beginners
Featuring our top 101 easiest ever Instant Pot Recipes along with guides showing you exactly how to use your Instant Pot Pressure Cooker.
Discount Cookbook Club Members Get This Cookbook Free (Cookbook Club password required):
(The cookbook club is a paid subscription that is separate from our free recipe forums)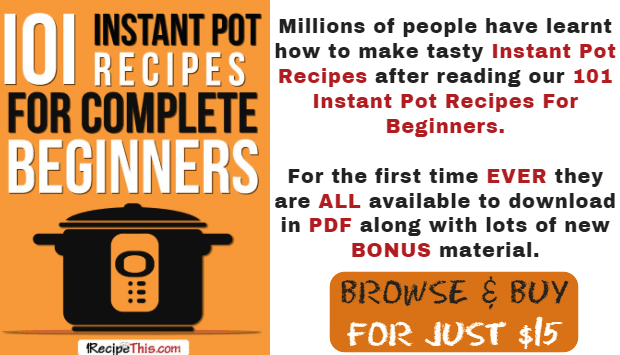 Full Description:
Our Instant Pot Recipes Includes ALL The Basics:
101 recipes exclusively created by Dominic & Samantha Milner here at recipethis. com – we don't steal Instant Pot Recipes off the internet like so many other people do.
Photos with every recipe so that you know exactly what to expect
Available in Ebook format from a wide range of ebook distributors
The FAMOUS water test if you have JUST bought your Instant Pot
A wide range of bonus materials for getting to grips with using the Instant Pot.
- Non Members Can Sign Up Here