101 Recipes In A Flash

FINALLY! You Can Cook A Professional Delicious Gourmet Meal Lightning Fast, Without Slaving Crazy Hours in Your Kitchen…30 Minutes or Less!
Discount Cookbook Club Members Get This Cookbook Free (password required):

(The cookbook club is a paid subscription that is separate from our free recipe forums)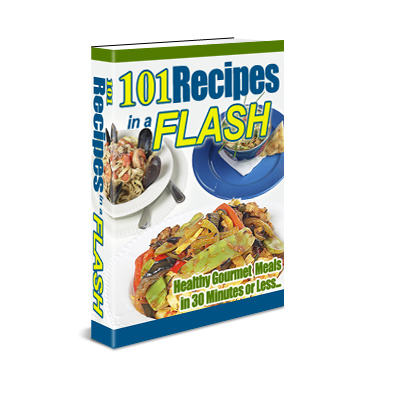 Create Delicious Professional Gourmet Meals in a Flash…
-Cut your cooking time in half and create great meals like you see on T.V.!
-Create delicious meals in 30 minutes or less
-101 dinner meals for you to choose from, so you'll never say things like, "Pork and beans for dinner, again?!?"
-Recipes you'll literally sink your teeth into and never get tired of…
-100% healthy and Low-Carb Recipes also available.
-Preparation and cook time included with all recipes within the book!
-Learn how to cook gourmet style: Chinese, Italian, Greek, Indian…and more!
-From enchiladas to ground beef stroganoff…this books got it all!
- Non Members Can Sign Up Here
- Or To Order This Title Separately Click Here