Mushroom Crumble: A Delicious and Healthy Recipe for a Perfect Dinner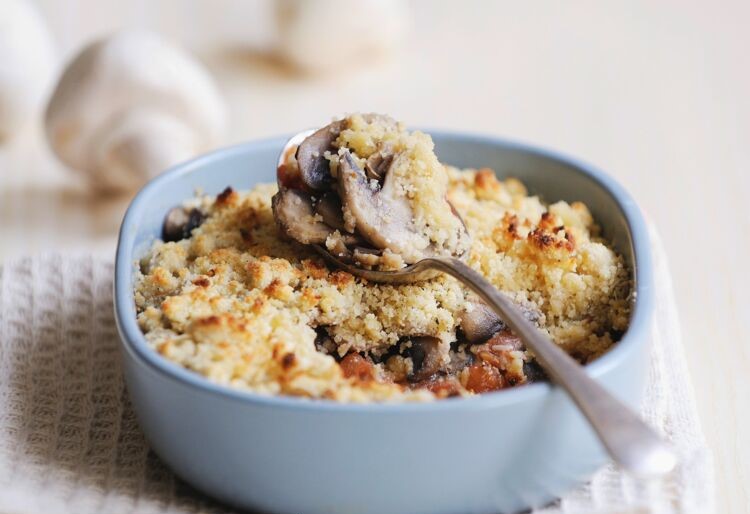 If you're looking for a tasty, healthy and easy-to-make meal, mushroom crumble is the perfect choice! This vegetarian dish is loaded with nutrients, flavor and texture, making it a great option for both meat-lovers and plant-based eaters. The best part is that you can make it in just a few simple steps and enjoy a comforting, warm and filling dinner.
What is Mushroom Crumble?
Mushroom crumble is a hearty dish made with sautéed mushrooms, seasoned with herbs and spices, and topped with a crispy breadcrumb mixture. The breadcrumbs create a crunchy texture that complements the tender, juicy and earthy flavors of the mushrooms. You can serve mushroom crumble on its own, with a side salad, or over a bed of quinoa, rice or pasta for a complete meal.
Benefits of Eating Mushrooms
Mushrooms are one of the healthiest foods you can add to your diet. They are low in calories, fat and carbohydrates, and high in protein, fiber, vitamins and minerals. Some of the benefits of eating mushrooms include:
Boosting your immune system: Mushrooms contain polysaccharides and beta-glucans, which have been shown to stimulate the immune system and reduce inflammation.

Improving gut health: The fiber in mushrooms can help improve digestion, regulate bowel movements and prevent constipation.

Promoting heart health: Mushrooms are rich in antioxidants, which protect your heart from oxidative stress and damage.

Supporting weight management: Mushrooms are low in calories and high in fiber, making them a great option for those trying to lose weight or maintain a healthy weight.
Ingredients for Mushroom Crumble
Here are the ingredients you'll need to make mushroom crumble:
4 cups sliced mushrooms
2 cloves of garlic, minced
1/4 cup chopped fresh parsley
1/4 cup chopped fresh thyme
1/2 cup breadcrumbs
1/4 cup grated parmesan cheese
2 tablespoons olive oil
Salt and pepper, to taste
Here's how to make mushroom crumble:
Preheat your oven to 375°F (190°C).
In a large skillet, heat the olive oil over medium heat.
Add the sliced mushrooms to the skillet and sauté until they are tender and juicy, about 8-10 minutes.
Add the minced garlic, chopped parsley and thyme to the skillet and stir until fragrant, about 1 minute.
In a separate bowl, mix the breadcrumbs, parmesan cheese, salt and pepper.
Transfer the sautéed mushrooms to an oven-safe dish.
Sprinkle the breadcrumb mixture over the mushrooms and spread it evenly.
Bake the mushroom crumble for 15-20 minutes, or until the breadcrumbs are golden brown and crispy.
Serve the mushroom crumble hot, with a side salad or over a bed of quinoa, rice or pasta.
Enjoy the Rich Flavors and Nutritious Benefits of Mushroom Crumble
Mushroom crumble is a delicious and healthy recipe that is perfect for dinner any night of the week. With its simple ingredients and easy preparation, you can enjoy a comforting, warm and filling meal in no time. So, why not try it out and discover for yourself why this dish is a crowd-pleaser!
---
Here is a simpler recipe:
Mushroom Crumble in 5 steps
Ingredients
1 Frozen pan-fried cooked mixed mushrooms
100g Parmesan
100g Flour
80g Butter
1 Small jar of tomato sauce
1 Sprig of thyme
Salt
Pepper
Calories=Medium
5 steps
Heat a large frying pan and sauté the cooked mushrooms with the stripped thyme, until the cooking water has evaporated.
Preheat the oven to 180°C.
In a bowl, mix the butter, flour and parmesan. The mixture must be sandy.
Put the mushrooms in a gratin dish then coat with tomato sauce.
Crumble the crumble on top and bake for 30 min.