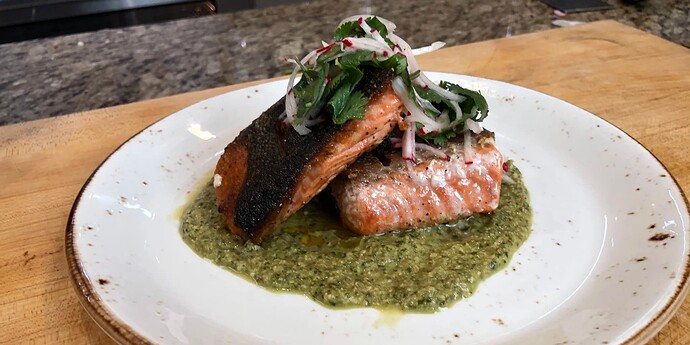 3/4 cup pumpkin seeds, toasted, plus more for serving
1/2 teaspoon cumin seed
4 to 6 (6-ounce) salmon fillets, with skin
Kosher salt and freshly ground black pepper
4 tomatillos
1 to 2 jalapeno or serrano peppers
1/2 white onion, chopped
2 cloves garlic, finely chopped
1½ cups chicken stock, divided
1 tablespoon unsalted butter
1½ cups baby spinach
1 cup fresh cilantro, plus more for serving
1 cup flat-leaf parsley
1/4 cup oregano
1½ tablespoons lime juice
Grapeseed or vegetable oil for frying
Cracked black pepper for serving
Preheat your broiler with a rack 6 inches below the heat source. Alternatively, you may place a metal grate directly atop a gas burner on medium-high heat. Char the tomatillos and peppers, turning occasionally, until they're partially blackened all over. This will take 12 to 15 minutes, check them halfway through.
Meanwhile, coat the bottom of a large skillet with a thin layer of oil and get it sizzling hot over medium-high heat.
Cook the salmon, skin side up, until you start to see a golden color along the bottom edge of the fillets, 3 to 4 minutes; the fish should release easily from the pan. Flip and cook another 2 to 3 minutes, or until the skin has begun to crisp up. Remove from the pan so it doesn't continue to cook but remains warm.
In a spice grinder or mortar and pestle, finely grind the pumpkin seeds and cumin together, then set aside.
Remove charred vegetables from the oven. When they're cool enough to handle, stem the peppers and cut out the seeds and membranes (or leave several seeds in for a spicier sauce). In a blender or food processor, puree the tomatillos and peppers with the onion, the garlic, 1 teaspoon salt, ¼ teaspoon pepper and 1 cup chicken stock. Stir in the ground pumpkin seeds and cumin.
In a deep skillet or large saucepan, melt 1 tablespoon of butter over medium heat. Add the sauce and cook gently, stirring occasionally, until it's slightly thicker and the onion no longer tastes raw, 5 minutes or so.
Meanwhile, bring a pot of gently salted water to a boil; have a sieve at the ready and set up an ice bath beside it. Cook the spinach, cilantro, parsley, and oregano for about 20 to 30 seconds, just until they turn a more vibrant green, then drain the herbs and quickly plunge into the ice bath to halt cooking. Wring herbs dry in a clean dish towel and finely chop them. In a blender, puree with ½ cup of the stock and the lime juice; season with salt.
Swirl this into the pan with the pumpkin seed mole and keep warm on low heat. Cook until the flavors come together.
To serve, line bowls or a serving platter with the sauce and nestle the fillets on top. Top with cilantro, toasted pumpkin seeds and cracked black pepper.