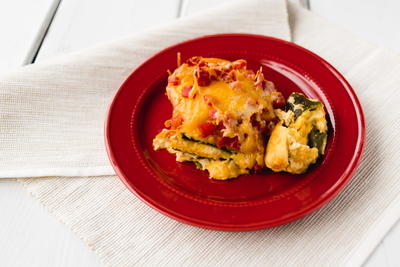 3 poblano peppers, roasted, peeled and seeded
1 pound Cheddar cheese, shredded
1 pound Colby Jack cheese, shredded
6 small corn tortillas
4 eggs
1 small can evaporated milk
1 teaspoon cumin
salt and pepper to taste
1 can Rotel tomatoes with green chiles, well drained
Preheat oven to 325 degrees F. Grease an 8x11-inch baking dish. Set aside.
In a mixing bowl, whisk together eggs, evaporated milk, cumin, salt and pepper. Set aside.
In a baking dish, layer two corn tortillas to cover the bottom.
Top with slices of poblano peppers and about 1 cup of each cheese.
Repeat with two more layers. Top with any remaining pepper slices and two corn tortillas and cheeses.
Slowly pour egg mixture over the top of everything.
Bake in the oven for 45 minutes.
Remove from the oven and top with drained tomatoes and any remaining cheese.
Return to the oven and bake an additional 30 minutes.
The top should bubble and the bottom should be golden brown.
Remove from the oven and allow to cool for 10-15 minutes before serving.