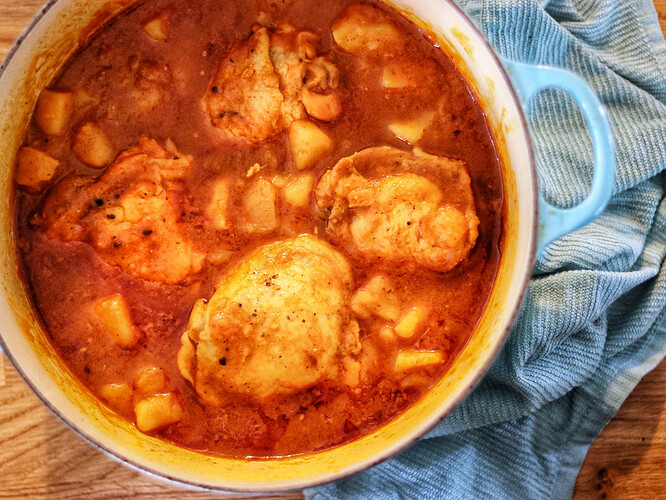 2 tablespoons olive oil
1 whole chicken, cut up
salt and ground black pepper to taste
1 medium onion, chopped
4 cloves garlic, minced
½ cup sofrito
2 potatoes, peeled and cubed
2 cups chicken broth
1 (8 ounce) can tomato sauce
1 (1.41 ounce) package sazon seasoning
½ teaspoon ground cumin
1 bay leaf
2 tablespoons cold water
1 tablespoon cornstarch
Heat olive oil over medium-high heat in a Dutch oven. Season chicken with salt and pepper and add to the hot pot to brown, 6 to 7 minutes per side. Transfer chicken a bowl and cover with an aluminum foil tent.
Reduce heat to medium; add onion to the pot and saute until translucent, about 5 minutes. Add garlic and cook for 1 minute. Stir in sofrito and cook for 2 to 3 minutes. Add potatoes, chicken broth, tomato sauce, sazon, cumin, and bay leaf; bring to a boil. Return chicken to the pot. Cover and cook for 1 hour. Remove chicken.
Mix water and cornstarch together in a small bowl; stir into simmering mixture until nicely thickened. Place chicken back into the pot and continue to cook about 10 minutes more.