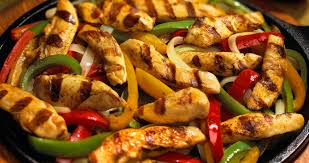 1 tablespoon vegetable oil
2 large onions, each cut into 8 wedges
1 large green bell pepper, cut into 1/2-inch strips
1 large red bell pepper, cut into 1/2-inch strips
4 boneless, skinless chicken breast halves (1 to 1-1/4 pounds total), cut into 1/2-inch strips
2 tablespoons dry fajita seasoning
10 (8-inch) flour tortillas
1 cup salsa
4 cups shredded iceberg lettuce
In a large skillet, heat oil over medium-high heat. Add onions and peppers, and saute 3 to 5 minutes, or until onions are tender, stirring occasionally. In a small bowl, combine chicken and fajita seasoning until chicken is thoroughly coated. Add chicken to skillet and cook 5 to 6 minutes, or until no pink remains in chicken and onions are browned, stirring frequently. Distribute chicken mixture evenly over tortillas. Top with salsa and lettuce then roll up tortillas and serve immediately.
Makes 10 servings