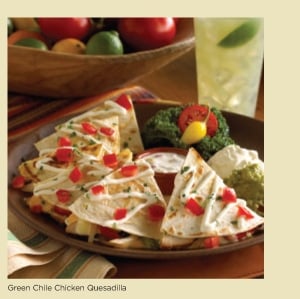 Four pieces of roasted chicken, skinned and cut into small chunks
1 small can of green chilis (jalapenos if you like it hot!)
1 cup of grated cheddar cheese (or use the popular Mexican mixed grated cheeses)
8 soft taco size tortillas (white or wheat, your preference)
1 teaspoon cumin
½ teaspoon salt
¼ teaspoon fresh ground black pepper
2 tablespoons butter
Toppings
Pico de gallo or salsa
Chopped avocado
Chopped onion
Sliced black olives
Sour cream
Mix the chicken, the green chilis, the cilantro, and the spices in a bowl. Stir to mix well.
Melt ½ Tbsp of butter in a 10 inch skillet.
Brush ½ the melted butter on one tortilla, then lay the other tortilla in the skillet.
Place ¼ of the chopped chicken mixture on the tortilla.
Top with ¼ cup of cheese.
Lay the second tortilla on top, buttered side up.
Over medium high heat, cook until the cheese begins to melt.
Flip the quesadilla with a large spatula, being careful not to let the filling slip out.
Cook until both sides are golden brown and all the filling is heated through.
Place on a plate, cut into quarters, and cover with the toppings of your choice.
Notes
This quick chicken recipe is perfect for an easy meal on a weeknight or for a simple lunch. It can easily be made with leftover chicken or with a roasted chicken from the deli. The meaty filling makes it satisfying, and all that is needed is a tossed salad to make a complete dinner.
If you want to make it exactly like Abuelo's you will need to saute some sliced onions and mushrooms to add inside the quesadillas before grilling.
If you're cooking for one or two, and you have leftover quesadillas, these can be frozen. Just pop them in the microwave for 2 minutes to heat them up.
Serves 4