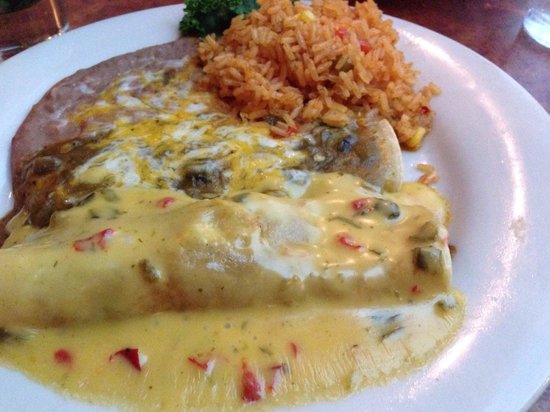 Shredded beef (see below)
2 tbsp. butter
1 sm. onion, chopped
1 (7 oz.) can green chiles
1 tbsp. all-purpose flour
2 cups sour cream
2 cups shredded Jack cheese
1 cup shredded cheddar cheese
Salt and pepper to taste
12 flour tortillas (6-7" diameter)
To prepare the sauce: In an 8-10 inch frying pan, combine 2 tablespoons butter, onion, chilies and the remaining 1/2 teaspoon cumin. Cook over medium heat, stirring occasionally, until onion is soft (about 10 minutes). Stir in the flour, then blend in 1 cup of the sour cream and stir until simmering. Remove from heat and blend in 1 cup of the Monterrey jack cheese. Season to taste with salt. Set aside.
Make the Enchiladas: Heat tortillas in the microwave, no more than six at a time. While tortillas are warm, spoon about 1/3 cup sour cream sauce and 1/4 cup shredded beef down center of each, roll to enclose. Set enchiladas seam side down in a 10 x 15 inch baking pan. At this point, you may cover and refrigerate until next day.
Bake, uncovered, in a 375 degree oven until hot in the center (about 15 minutes, 25 minutes if refrigerated). Sprinkle remaining 2 cups cheese on top. Return to oven until cheese is melted (about 5 more minutes). Use a wide spatula to transfer enchiladas to plates. Pass remaining 1 cup sour cream to spoon on individual servings.
Shredded beef
2-4 pound beef roast (sirloin tip or shoulder roasts work best)
64 oz. Beef broth
1 tbsp. dried rosemary
1 bay leaf
1-4 ripe Tabasco peppers, cut in half (you may substitute any peppers you like, heat-wise)
2-6 whole garlic cloves
1 medium onion, cut in halves (optional)
Cumin
Coriander
Salt and pepper to taste
Two packets dry taco seasoning mix
Worchester sauce
Garnish
lettuce
salsa
cheese
sour cream
queso
guacamole
Season beef on both sides with salt, pepper, cumin and coriander. Use a fork to poke holes into the meat on both sides after seasoning. Pour the beef broth into the crock pot/slow cooker, and set temperature to High. Add rosemary, bay leaf, peppers, garlic cloves, and onion. Add the beef, and allow to cook on high for one hour.
Reduce heat to low and cook all day, or until meat is very tender.Remove meat from broth mixture and strain at least three cups of broth into a container. Shred the meat using two forks (you should be able to pull it apart using gentle pressure), removing any fat and gristle. Place the meat back into the crock pot, or into a large stock pot on the stove. Add the taco seasoning and the reserved beef broth. Do not add any water. Season liberally with Worcestershire sauce, and allow the mixture to cook down, stirring often to keep the meat from sticking to the pan.
Makes 12