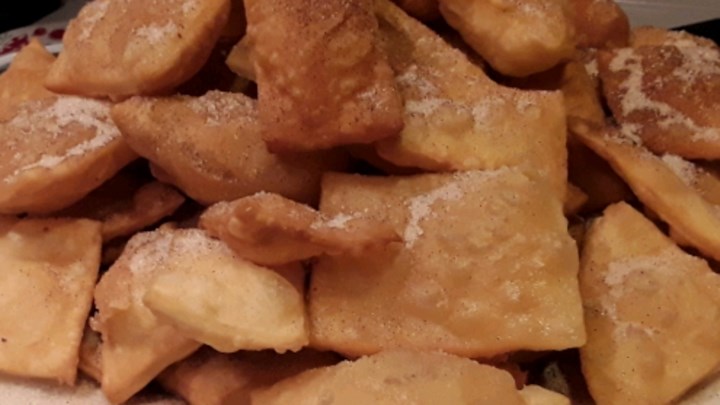 1 cup all purpose flour
1 1/2 teaspoons baking powder
1/4 teaspoon salt
1 tablespoon shortening
1/3 cup warm water
oil for frying
honey, optional
confectioners' sugar, optional
In a large bowl, combine flour, baking powder and salt. Cut in shortening until mixture resembles fine crumbs. Gradually add water, tossing with a fork until a loose ball forms (dough will be crumbly).
On a lightly floured surface, knead the dough for 3 minutes or until smooth. Cover and let rest for 10 minutes. Roll out into a 12-in. x 10-in. rectangle. Cut into 12 squares with a knife or cut into 12 circles using a round biscuit cutter. In a deep fryer, heat 2 inches of oil to 375 degrees. Fry sopapillas for 1 to 2 minutes on each side. Drain on paper towels; keep warm. Serve with honey and/or dust with confectioners' sugar if desired.