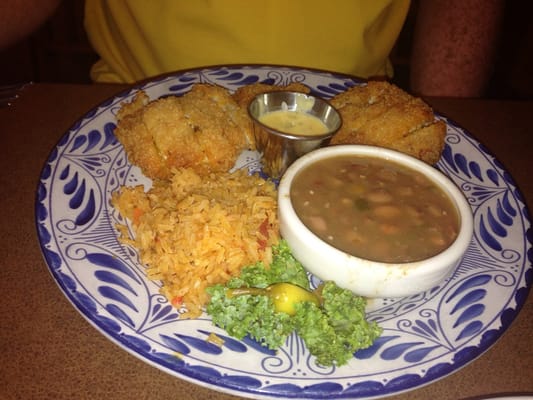 Chicken breast medallions stuffed with a blend of chorizo, Poblano peppers and cheese and lightly fried.
1 (8 oz.) chicken breast, clean and tenderized
2 oz. cooked chorizo per medallion, drained
1 tablespoon minced onion
1 tablespoon Poblano pepper
1 oz. mixed cheese (Monterrey/Cheddar)
1 whole egg
bread crumbs (as needed)
flour (as needed)
oil for frying
Prepare Chorizo mix: Place diced onion, poblano pepper and chorizo in a saute pan. Over medium heat sauté all ingredients until chorizo is done, onions are transparent and peppers are softened. Remove from heat. Drain and hold till ready for use.
Prepare Chicken: Cut center cartilage from chicken breast. Place on an even surface and cover breast with plastic wrap. Using a mallet, tenderize breast to an even thickness. Place 1 oz. of cooked chorizo and 1/4 oz. of mixed cheese on each breast lobe. Roll and tuck breast. Place in a container, cover and refrigerate until ready to proceed with breading.
Breading the Chicken: In a mixing bowl, break egg and add 1/4 cup of water, using a fork or whisk, mix together. In a small pan or plate place flour, in another place bread crumbs. Roll prepared chicken breasts in flour. Be sure the breast is well coated with flour. Dip chicken in egg wash to coat. Roll in bread crumbs to coat. Repeat egg wash and bread crumb steps.
Frying the Medallions: Preheat oil to 300 degrees. (if possible use a fryer. If not, use a dip stock pot. Chicken medallions need to be completely submerged in hot oil.) Fry for approximately 10 minutes or until chicken reaches an internal temperature 175 degrees. Remove from fryer and slice 3/8" thick on a 45° angle using the entire medallion (6 to 8 pieces).
Serves 2