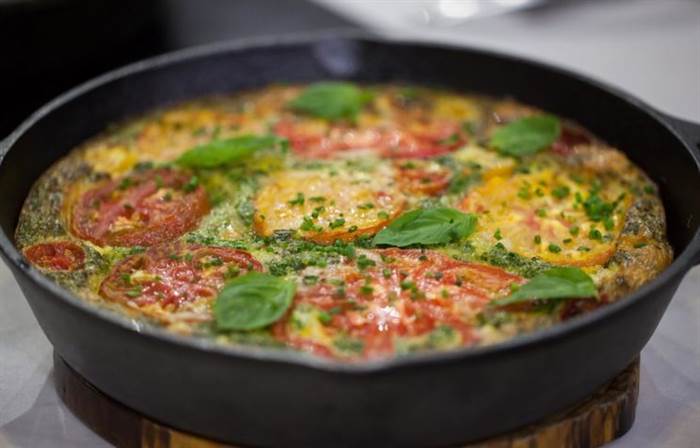 12 eggs
½ cup chives, chopped,
1 cup white onion, sliced
½ cup orange peppers, small diced
½ cup yellow cherry tomatoes cut in half
2 heirloom tomatoes, cut into ½-inch slices
1 tablespoon basil, chopped
1 tablespoon rosemary , chopped
4 slices bacon, cut into ½ inch pieces
2 cups white cheddar cheese, shredded
1 teaspoon salt
Salt and pepper to taste
Pre-heat oven to 350. Heat 10-inch cast iron pan, and place bacon in pan. Render bacon until bacon becomes crispy. Remove bacon from pan but keep the bacon fat. Add onions, peppers and rosemary and cook until onions become translucent. Season with salt and pepper and add back the bacon.
In a large bowl whisk together eggs, chives, basil and 1 cup of cheese. Add to pan. Stir in cherry tomatoes, and sprinkle remaining cheese. Place heirloom tomatoes on top. Place in oven and cook for about 15 minutes, until the eggs are set. Serve warm.