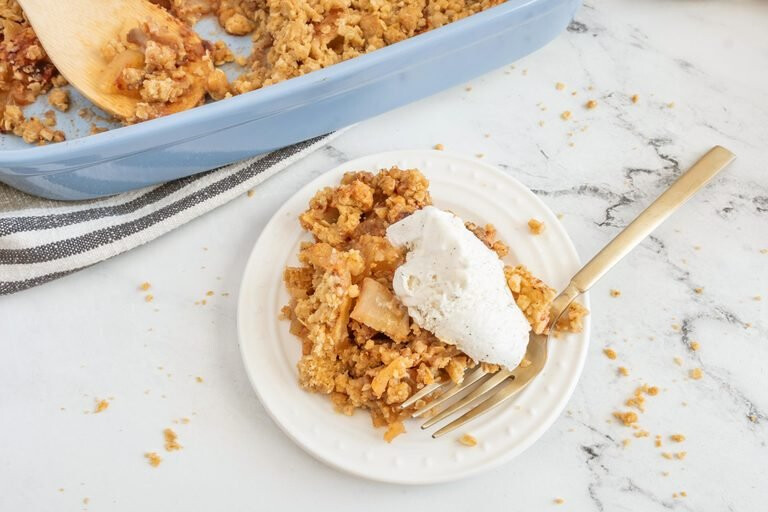 5 apples, peeled and sliced
1/2 cup sugar
1 teaspoon cinnamon
1/2 cup rolled oats
2/3 cup brown sugar
1 cup flour
1/2 teaspoon baking powder
1/4 teaspoon salt
1 stick unsalted butter, melted
Preheat the oven to 350°F. While the oven heats, peel, core and slice your apples.
Then lightly spray a 13×9-inch baking dish with cooking spray. Arrange the apple slices in the bottom of the dish. Sprinkle sugar and cinnamon on top.
In a small bowl, combine the oats, brown sugar, flour, baking powder and salt. Use a fork to mix in the melted butter. Mix until small clumps form.
Sprinkle the oat topping evenly over the apples. Bake the apple goodie for 38-40 minutes until the top is golden and the apples are bubbling.
Remove the baking dish from the oven and allow the apple goodie to cool for 10 minutes before topping it with ice cream or whipped cream and serving.
Notes
You can make an apple goodie with any type of apple. Granny Smith and Honeycrisp apples are great options due to their stronger flavor. However, you can choose your favorite or use up whatever you may have left in the fruit bowl or in the fridge.
This recipe calls for peeling and slicing the apples. However, you can certainly keep the skins on after washing the apples if preferred. The apples can be left as large slices, cut in half or even cut into chunks.
This dessert features a hint of cinnamon paired with white sugar and brown sugar for great flavor. Choose the right type of cinnamon for your tastes (some are spicier than others). You can also add nutmeg, clove or cardamom to the mix to enhance the flavor.