I have an incredibly easy secret recipe to share with you today, straight from the kitchen of one of the finest Italian restaurants in Los Angeles, Angelini Osteria. Known for their delectable rustic cuisine and homemade pasta dishes, the restaurant's tagliolini al limone is a fan favorite.
The dish is made by infusing a cream sauce with the refreshing flavors of fresh basil and lemon, then serving it over pasta. This recipe is not only elegant but also effortless to whip up.
Enjoy!
=-=-=-=-=-=-=-=-=-=
Secret Recipe Alert
=-=-=-=-=-=-=-=-=-=
Angelini Osteria's Tagliolini al Limone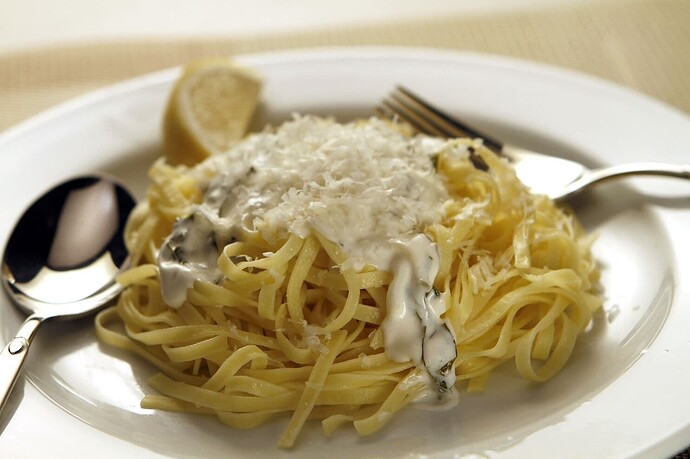 =-=-=-=-=-=-=-=-=-=-=-=-=-=-=-=-=-=-=-=-=-=
The
Alpine Secret
For Healthy Weight Loss.
=-=-=-=-=-=-=-=-=-=-=-=-=-=-=-=-=-=-=-=-=-=
Ingredients:
1/2 pound tagliolini pasta
2 tablespoons butter
8 large basil leaves, julienned
2 tablespoons plus 2 teaspoons lemon juice
1 cup heavy cream
1/4 cup grated Parmigiano-Reggiano cheese
Fresh ground black pepper
Lemon wedges, garnish
Cooking Instructions:
Cook the pasta: In a large bowl of salted boiling water, add the pasta. Cook until al dente according to the package instructions. Drain the pasta.

While the pasta is cooking, start to make the sauce: In a medium sauté pan, melt the butter over medium heat. Add the basil and cook, stirring frequently, until aromatic, about 3 minutes. Stir in the lemon juice and continue to cook until the lemon juice is reduced by half. Reduce the heat to low and add the cream. Slowly cook the cream until it thickens to a sauce consistency, stirring occasionally, about 5 minutes. Remove from heat.

Divide the pasta between 4 to 6 serving bowls and ladle the sauce evenly over the servings. Divide the cheese between the portions, sprinkling it evenly over the sauce, and top each serving with a few grinds of pepper. Serve each portion with a lemon wedge on the side.
Servings: 4
Source: LA Times
Like Copycat Recipes? Get our Secret Recipes Cookbook Here
Until Next Time… Be Well!
RSN