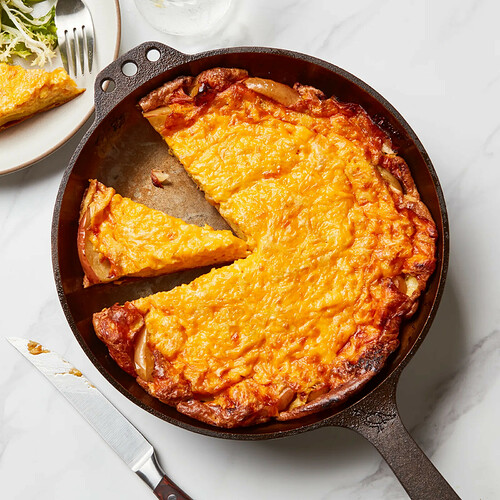 4 tablespoons (½ stick) unsalted butter
2 apples (such as Honeycrisp), cored and sliced
1 teaspoon kosher salt, divided
8 large eggs
1 cup milk
1 cup all-purpose flour
1½ cups shredded cheddar cheese (preferably smoked or extra sharp; about 6 ounces)
Preheat the oven to 425°F.
Heat the butter in a 10-inch oven-safe skillet over medium heat. Once it's bubbling, add the apples and ¼ teaspoon of the salt. Cook, stirring occasionally, until the apples are just tender, 5 to 7 minutes.
While the apples cook, whisk together the eggs, milk, flour, and remaining ¾ teaspoon salt until mostly smooth. It's okay if a few small lumps remain.
Pour the egg mixture into the pan with the apples. Top with the shredded cheese. Transfer the pan to the oven and bake until puffed and golden, 20 to 25 minutes. Cut into wedges to serve.