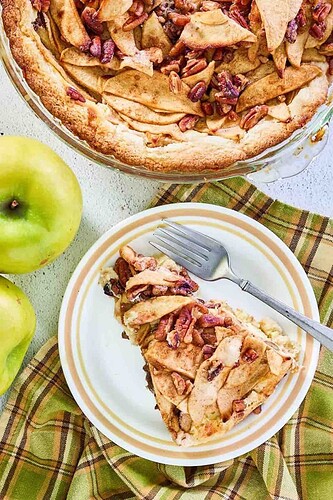 Crust
3/4 cup butter softened
1/2 cup sugar
1/2 teaspoon vanilla extract
1 1/4 cups all-purpose flour
Cheesecake Filling
8 ounces cream cheese
1/4 cup sugar
1 egg
1/2 teaspoon vanilla extract
Apple Topping
4 cups thinly sliced Granny Smith apples
1 cup chopped pecans or walnuts
1/2 teaspoon ground cinnamon
2/3 cup sugar
1 tablespoon butter
Oat Crumb Topping (Optional)
1/4 cup all-purpose flour
1/4 cup quick cooking oats
1/4 cup brown sugar
1/2 teaspoon ground cinnamon
1/4 teaspoon ground nutmeg
2 tablespoons melted unsalted butter
Cheesecake Crust
Cream together the butter, vanilla, and sugar.
Gradually add flour and beat until a soft dough forms.
Press the dough into the bottom and up the sides of a deep dish pie pan.
Cheesecake Filling
Beat together the cream cheese, sugar, egg, and vanilla until smooth.
Spread the filling evenly over the crust.
Apple Topping
Place the sliced apples. pecans, cinnamon, and sugar in a bowl and toss to combine.
Arrange the apple topping in a circular pattern over the filling.
Cut the butter into small cubes and scatter them on top of the apples.
Oat Crumb Topping (Optional)
Combine all crumb topping ingredients in a small bowl. The mixture should be crumbly.
Sprinkle the crumbs evenly over the apples.
Baking
Heat the oven to 400°F.
Bake for 15 minutes and then lower the oven temperature to 350°F and continue to bake until the apples are tender.