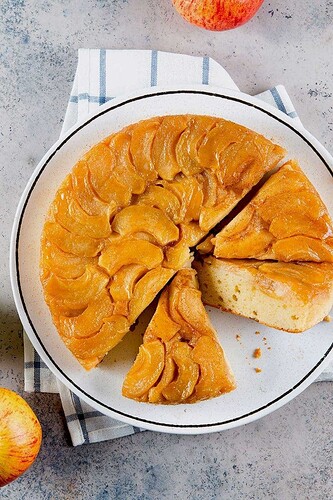 FOR THE TOPPING
4 tablespoons unsalted butter, plus extra for greasing pan
4 apples, peeled and cored
⅔ cup light brown sugar, packed
2 teaspoons fresh lemon juice
1/4 teaspoon ground cinnamon
FOR THE CAKE
1 cup all-purpose flour
1 teaspoon baking powder
½ teaspoon salt
¾ cup granulated sugar
¼ cup packed light brown sugar
2 large eggs
6 tablespoons unsalted butter, melted and cooled slightly
½ cup sour cream
1 teaspoon vanilla extract
TO MAKE THE TOPPING:
Grease the bottom and sides of a 9-inch round, 2-inch-deep nonstick cake pan; set aside. Adjust oven rack to lowest position and heat oven to 350 degrees.
Slice the apples into thin slices (1/4 to 1/2 inch thick).
Heat the butter in a large 12-inch skillet over medium high heat. Add the apple slices and cook for about 2-3 minutes. Add the brown sugar, lemon and cinnamon and mix to coat the apples. Cook for about 3-4 minutes, stirring as needed, or until the apples start to caramelize.
Transfer the apple mixture to the prepared pan. Arrange the apples on a circular pattern or simply place them on the bottom of the pan on an even layer.
FOR THE CAKE:
In a medium bowl, whisk the flour, baking powder and salt together. Set aside.
In a large bowl, whisk the granulated sugar, brown sugar and eggs until well combined. Slowly whisk in the melted butter and mix well. Add the sour cream and vanilla; whisk until combined. Add the flour mixture and whisk until just combined.
Pour batter into the pan and spread evenly over the apples. Bake until cake is golden brown and toothpick inserted into center comes out clean, 35 to 40 minutes.
Cool pan on a wire rack for 20 minutes. Run a paring knife around sides of the cake to loosen. Unmold the cake and let it cool 20 minutes.