Today's secret recipe will show you how to make Applebee's roasted garlic sirloin steak at home. Sirloin steaks are marinated in a blend of balsamic vinegar, soy sauce, garlic and honey and then grilled to perfection.
Serve your steaks with a steamed vegetable and some garlic roasted potatoes by following this recipe from our forum: Go Here
Enjoy!
=-=-=-=-=-=-=-=-=-=-=-=-=-=-=-=-=-=-=-=-=-=-=-=
** Heal Your TMJ Disorder and Tinnitus In Just 7 Days **
Easy 3-Minute-A-Day Exercises
Fix TMJ Disorders Go Here
=-=-=-=-=-=-=-=-=-=-=-=-=-=-=-=-=-=-=-=-=-=-=-=
=-=-=-=-=-=-=-=-=-=
New Secret Recipe
=-=-=-=-=-=-=-=-=-=
Applebee's(™) Roasted Garlic Sirloin
Like this recipe? Get our secret recipe cookbooks on sale – Go Here
1/2 cup balsamic vinegar
1/4 cup soy sauce
3 tablespoons minced garlic
2 tablespoons honey
2 tablespoons olive oil
2 teaspoons ground black pepper
1 teaspoon Worcestershire sauce1 teaspoon onion powder
1/2 teaspoon salt
1/2 teaspoon liquid smoke flavoring
1 pinch cayenne pepper
2 (1/2 pound) sirloin steaks
In a medium bowl, mix the vinegar, soy sauce, garlic, honey, olive oil, ground black pepper, Worcestershire sauce, onion powder, salt, liquid smoke, and cayenne pepper.
Place steaks in a shallow glass dish with the marinade, and turn to coat. For optimum flavor, rub the liquid into the meat. Cover, and marinate in the refrigerator for 1 to 2 days.
Preheat grill for medium-high to high heat.
Lightly oil the grill grate. Grill steaks 7 minutes per side, or to desired doneness. Discard leftover marinade.
Serves 2
Share This Recipe:
Have a comment or question about this recipe? Post it here
Source: Recipe Secrets Forum
Until Next Time… Be Well!
Kind Regards,
As the temperatures begin to drop, we're moving into soup weather. Today's secret recipe will show you how to make Applebee's French onion soup. Loads of caramelized onions in a rich beef broth with melted Provolone cheese. I like to make large batches of this soup and freeze it.
You can always find more secret recipes from Applebees on our forum: Here
Enjoy!
=-=-=-=-=-=-=-=-=-=-=-=-=-=-=-=-=-=-=-=-=-=-=-=
Clean and Purify your body with these Alkaline Recipes
Neutralize excess acids and Balance your pH levels Alkaline Diet Recipes
=-=-=-=-=-=-=-=-=-=-=-=-=-=-=-=-=-=-=-=-=-=-=-=
=-=-=-=-=-=-=-=-=-=
New Secret Recipe
=-=-=-=-=-=-=-=-=-=
Applebee's(™) French Onion Soup
Like this recipe? Get our secret recipe cookbooks on sale – Here
2 tablespoons butter
2 tablespoons vegetable oil
10 cups sliced white onions 6 to 7 large onions
1 teaspoon salt
1 1/2 teaspoons garlic chopped
10 cups low-sodium beef broth
1 tablespoon beef base
1 teaspoon ground black pepper
8 slices firm bread
8 teaspoons grated Parmesan cheese
8 tablespoons or slices of Provolone cheese
In a large stockpot over medium heat, first heat the butter and oil, then add the sliced onions and salt; saute the onions until they are browned. This will take up to 30 minutes; you want the onions to have the color of caramels.
Stir frequently to prevent burning.
When the Onions are almost fully caramelized, add the chopped garlic.
Cook the onion and garlic together until the garlic has become fragrant, about 2 minutes.
Add beef broth, beef base, and black pepper. Taste and add more salt if needed.
Simmer for 30 to 45 minutes over low heat.
To serve soup, preheat the oven to broil.
Ladle soup into 8 individual ovenproof bowls, place a slice of bread on top of each, add top each slice with 1 teaspoon Parmesan cheese, and provolone cheese.
Place under the broiler and cook until the cheese just begins to brown.
Have a comment or question about this recipe? Post it here
Source: Recipe Secrets Forum
Until Next Time… Be Well!
Kind Regards,
Applebee's Copycat Crispy Orange Chicken Skillet
2 lbs boneless, skinless chicken
1 egg
1 1/2 tsp salt
1 1/4 tsp pepper
1 tbsp vegetable oil
– 1/2 cup plus 1 tablespoon cornstarch
– 1/4 cup all-purpose flour
– Oil (for frying)
Glaze:
1 tsp minced garlic
1 1/2 tsp grated orange rind
1 c fresh orange juice
1/2 c hoisin sauce
Dash cayenne pepper
1/4 c granulated sugar
Salt and Pepper to taste
Cut your chicken into 2 inch piece and put them into a large
bowl. Add in the egg, salt, pepper and oil. Mix it well and set it
to the side. In another large bowl, stir the cornstarch and flour
together and mix it well. Add the chicken into the flour mix and
coat each piece generously.

Pour about a 1/2 inch of oil into a heavy skillet and set it
over high heat. When the temperature is 375 degrees, carefully put
some chicken pieces in small batches and fry for 3 to 4 minutes or
until it's brown and crispy/crunchy. Carefully remove the chicken
from the oil with a slotted spoon and drain it on paper towels,
brown bags, or however you'd like to drain it. Finish frying the
chicken until they're all done. Set it aside and put together your
glaze in the next step.

Let your oil cool slightly in the skillet and remove all but 2
tbsp. of oil and put it over medium heat. Saute the minced garlic
for a minute, being careful not to burn it so you don't end up with
a bitter taste. Add the rest of the ingredient in and bring the
mixture to a boil. Make sure to stir this for 3 minutes and reduce
the heat and simmer it until a saucy thick glaze is created. Pour
the glaze over the chicken and serve!
Applebees Copycat Low Fat Grilled Tilapia with Mango Salsa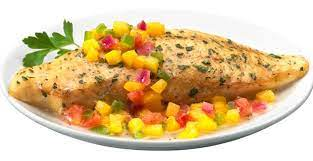 Ingredients:
1 Tilapia Fillet (or other whitefish) grilled
1/8 teaspoon cayenne pepper
salt & pepper, to taste
Mango Salsa
White rice
Vegetable Medley
Mango Salsa
1 cup diced tomatoes
1/2 cup diced red onions
1/2 each diced jalapeno
2 tablespoon chopped cilantro
Salt and pepper to taste
1 teaspoon salad oil
1 teaspoon white vinegar
1/2 teaspoon granulated garlic
1/2 cup chopped mango
Preparation:
Tilapia Fillet:
Spray both sides of the tilapia with nonstick cooking Spray.
Mix together the salt, pepper, cayenne pepper in a bowl. Season both sides of the tilapia with the seasoning mixture.
Place tilapia on a clean, lightly oiled grill, smooth side down. Cook to an internal temperature of 145 degrees, turning once during cooking.
Cook rice
Steam fresh vegetable medley (use no butter) season with lemon pepper.
Mango Salsa:
Place all ingredients together in a bowl with the exception of the mango, and mix.
Add the mango and gently mix right before serving.
To serve: Place a portion of white rice on a platter. Place the tilapia on the bed of rice. Pour 2 tablespoons of the mango salsa over the tilapia.
Add the vegetable medley.
Garnish with kale and a fresh lemon wedge.