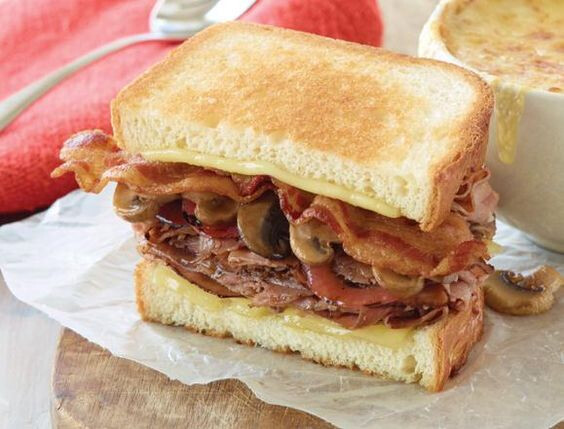 1 slice center cut bacon
1/4 cup thinly sliced red onion
1/2 cup sliced mushrooms
2 tablespoons red wine
2 slices bread
1 slice Swiss cheese
thinly sliced roast beef
2 teaspoons butter
Cook bacon until crispy, either in a skillet over medium heat or on a microwave-safe plate in the microwave.
Bring a skillet sprayed with nonstick spray to medium heat. Cook and stir onion until softened, about 4 minutes. Remove onion. Add mushrooms to the skillet. Carefully add wine and 2 tablespoons water. Cook and stir until mushrooms are soft and liquid has evaporated, about 5 minutes.
Lay bread slices flat, and top one slice with cheese, roast beef, onion, and mushrooms. Break bacon in half and place over mushrooms. Add the other bread slice, and spread the top with 1 teaspoon butter. Clean skillet, re-spray, and return to medium heat. Place sandwich in the skillet, buttered side down. Spread the top with remaining 1 tsp. butter. Cook until lightly browned, about 2 minutes per side, pressing down with a spatula to seal.